For a sustainable world: alliances and established businesses
Global Embassy of Activists for Peace
See Gallery
The Corporate Social Responsibility for Sustainable Development (CSR) Session within the framework of the Peace Integration Summit, CUMIPAZ Guatemala 2018, resulted in the union of new companies to the International Alliance for Peace for Sustainable Development (ARSEPAZ) among other achievements and the delivery of businesses in favor of Mother Earth, by different companies.
The Program (CSR) integrates business sectors in the work for peace, by means of raising awareness for making decisions on ethical basis, based on values ​​and principles, promoting love, altruism and other human values.
The event brought together more than 200 businessmen from Colombia, Costa Rica, Guatemala, El Salvador, Mexico, Paraguay, Peru, Puerto Rico and Venezuela, who participated in the 3rd CSR Encounter in the framework of the Summit, held at the Westin Camino Real Hotel in Guatemala City.
The Session was attended by the former president of Ecuador, Lucio Gutiérrez, among other national and international authorities; CSR experts, business leaders and the general public.
Businessmen join ARESEPAZ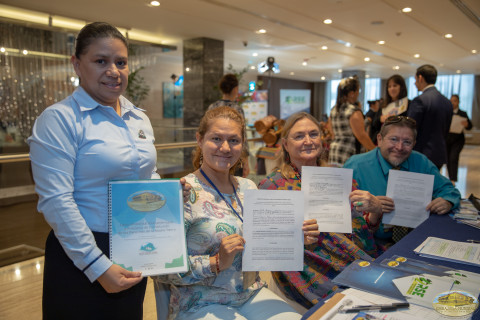 Days prior to the Session and during the same, 12 companies joined the Alliance that seeks to sensitize the business sector and civil society on Corporate Social Responsibility (CSR) practices, as a tool for the construction of peace, based on integral education.
ARSEPAZ is made up of a group of companies, university faculties of administration and related chambers of commerce, unions, associations, entrepreneurs, students and individuals who identify with the objectives around the world.
The new allies:

- Network of Microfin Institutions, Guatemala

- Magister University, Costa Rica

- Fundambiente, Costa Rica

- Recycler Prime, Guatemala

- Gtlogistic SA, Guatemala

- Fundación Almo, Guatemala

- Eco Energía Universal, Guatemala

- ISO, Guatemala

- Innovaciones Móviles SA, Guatemala

- Aselogyca, Guatemala, Guatemala

- Asociación Conservación Maya, Guatemala

- Jade Maya, Guatemala
In the event, GEAP handed out 30 plaques in recognition of the companies that are part of the Alliance and work on the creation of a new culture of happiness as a motivating factor in the generation of development


Companies committed to environmental care
During the course of the CSR Session for Sustainable Development, the businessmen expressed their desire to support the Proclamation of the Constitution of the Rights of Mother Earth as an action oriented to the protection, preservation and defense of all ecosystems.
Through corporate agreements, companies supported the initiative of the Inter-American Environmental Charter and the Proclamation of the Constitution of the Rights of Mother Earth, proposed by the Global Embassy of Activists for Peace.
Seven economic institutions signed agreements and 5 more companies have already signed them for delivery.  
These agreements and endorsements are directed towards the same goal, to work for the improvement, well-being, happiness and peace of the human family, promoting the recognition and defense of human dignity and the Rights of Mother Earth.
Details
Proyecto:
CUMIPAZ Peace Integration Summit