OSEMAP
Participants of
OSEMAP
60

Date of birth
09/26/2015

Symphonic Orchestras
in America
10

Music
432 Hertz

Quantity of Members
in America
400
What is OSEMAP?
Introduction
The Symphonic Orchestra of the Global Embassy of Activists for Peace (OSEMAP) is a social Project that forms part of the program The Power of Music for the Peace and Happiness of the Integral Human Being.
This initiative has an international reach; brings together musicians and singers of different nationalities, languages, ages and cultures, to promote - through music, interpreted in 432 Hertz - a change in the feeling, thinking and acting of people, especially children and youth.
Through this Project, Dr. William Soto has formed symphonic orchestras in 10 countries that, apart from preparing children and youths in music, offers the opportunity to acquire a trade or profession that can change their lives, in such a way that as individuals, they positively contribute to their environment.
Music is a power that directly impacts the heart or soul of the person, it is an effective instrument in education. For that reason, it constitutes an important tool to transform societies and promote a culture of peace.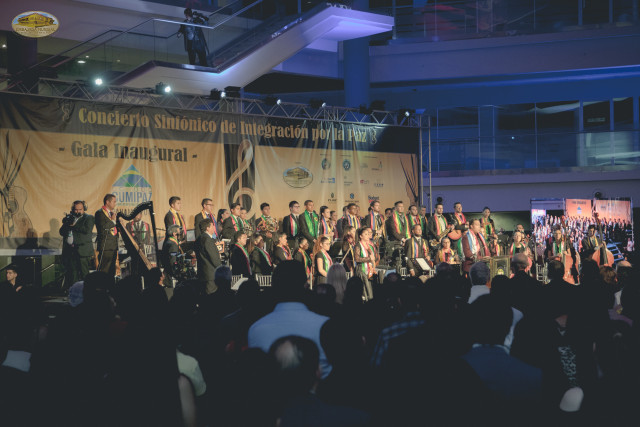 In Bolivia, Venezuela, Colombia, Mexico, Chile, Brazil, Dominican Republic, Peru and Ecuador, around 400 people make up different local orchestras. Once a year the musicians with the most experience are selected to form a single orchestra, as rich in musical diversity as in the nationality and culture of its members; which, unified, presents itself in international scenarios, carrying through their interpretations messages that promote peace in the human heart, and in turn, it is then projected to society through actions.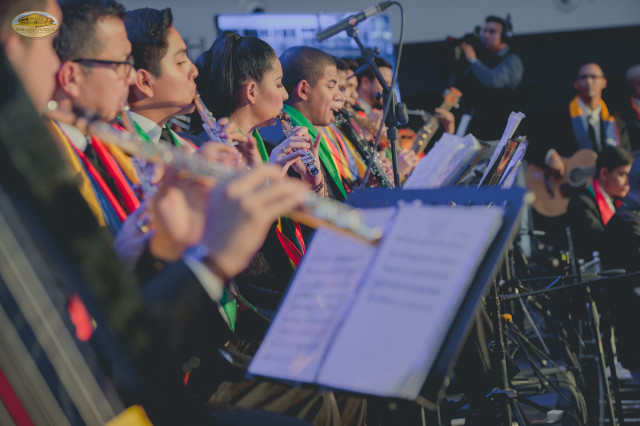 Members of the Orchestra in different countries as part of the project, receive comprehensive training: preparation in specific subjects in the field of music, such as: musical language, techniques for instruments, singing techniques, audio-perceptive, orchestral and vocal ensembles; in addition to oratory, leadership, management of emotions, human rights, moral, ethical and spiritual values.
It is proven that music is a power that influences the way of feeling, thinking and acting, both for children and young people as for adults. This influence can be positive or negative; it can be used to awaken feelings such as love, and values, like solidarity, compassion and respect; but they can also incite violence, vices and the practice of bad habits, depending on the type of music being performed. For that reason, the Orchestra makes a special emphasis on the rhythm, origin, contents in the lyrics and quality of music that is taught and interpreted.
GENERAL OBJECTIVE OF THE OSEMAP PROJECT
Promote music as a tool that transforms the lives of people, especially children and youth, through the formation of integral performers in their interpretations with a culture of peace and happiness for mankind.
Specific objectives
Form integral musicians: Heart (or soul), spirit and body
Promote a trade or profession for children and youths in different Latin American countries.
Promote a change in frequency, from 440 hertz (Hz), which is used today, to 432Hz, which is considered the natural frequency of the human being, the frequency of peace.
Cultivate and broadcast music for peace through their presentations and productions.
CUMIPAZ 2018 - GUATEMALA
"GALA CONCERT - SYMPHONY ORCHESTRA OSEMAP"
The Global Embassy of Activists for Peace, within the framework of CUMIPAZ, Guatemala-2018, held on October 3, at 7:30 p.m., the GALA CONCERT; a musical presentation that unites hearts with the power of music as a universal language. See gallery 2018
This event counted with the participation of the GEAP Symphony Orchestra, made up of global and intercultural musicians (children, youth and adults), who are part of the project "The Power of Music for Peace and Happiness of the Integral Human Being".
The Orchestra is characterized by interpreting their musical pieces in the frequency of peace, 432 Hertz.
Contact
Need more information?