Official presentation of the peace integration world encounter
Global Embassy of Activists for Peace
The second edition of the Peace Integration Summits, CUMIPAZ 2016 was officially presented, through a press conference, where all the program details were made known. 
The statements were issued by the board of the Global Embassy of Activists for Peace (GEAP), organization that coordinates the Summit, along with the legislature authorities of Paraguay, who assume the co-organization of the event as the official headquarters.
CUMIPAZ 2016 will focus on issues related to a sustainable development, universal justice, integral education, human rights and democracy as fundamental elements in shaping the overall proposals for peace building; these aspects were detailed by Gabriela Lara, general director of GEAP.
Lara confirmed the presence of authorities and personalities that will participate, such as the Secretary General of the Organization of American States (OAS), Luis Almagro Lemes; the former President of the African Court on Human and People Rights, Augustino S.L. Ramadhani; Judge Howard Morrinson and Antoine Kesia-Mbe Mindua of the International Criminal Court (ICC), among others.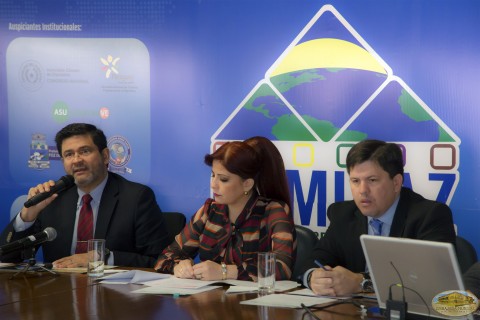 Congressman Jose Maria Ibañez (ANR), chairman of the Commissioner of Foreign Affairs, said that Congress provides all the institutional support to CUMIPAZ 2016, by supporting the development of proposals and projects that seek to solve national and international issues involving to peace.
Ibañez said that among the objectives of this Summit, issues such as social inclusion, respect for the rights of all peoples, promotion of values ​​in education and environmental policies to respect the environment. (See goals CUMIPAZ)
The international event will be the main stage of the Bicameral Congress Hall from October 4th to 8th; with sessions directed to the following areas: Diplomatic political and parliamentary, educational, judicial and corporate. (See programming)



 
Details
Proyecto:
CUMIPAZ Peace Integration Summit