Chile: The GEAP offers humanitarian aid in the Santa Olga case
Global Embassy of Activists for Peace
Chile: The GEAP offers humanitarian aid in the Santa Olga case
Volunteers from the Global Embassy of Activists for Peace (GEAP) in Chile made an appearance in the town of Santa Olga to provide their services and humanitarian assistance to more than 1,500 families, who were left homeless due to the forest fires that occurred in the January, 2017.
This community is located in the south of the country, known for its rock formations: the stone of the church and the arch of the lovers. According to information provided by the public, the Santa Olga fire became one of the largest registered catastrophes in the history of Chile.
During 3 days, the GEAPA volunteers supported the food area, and also removed debris and burned material.
Support actions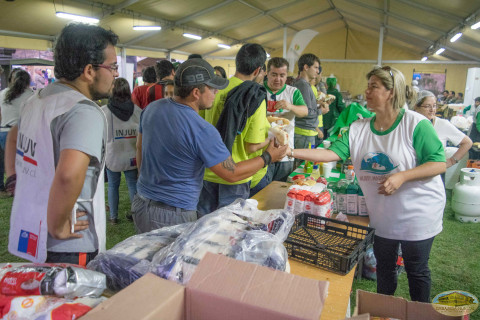 In the zone of the sinister they were present different authorities, among them Carlos Valenzuela, mayor of Constitution; Alejandra Kraus, Minister of Labor; José Gómez, Minister of National Defense; and Claudio Weber, colonel chief of Military Assistance.
The representatives of these governmental institutions thanked the different organizations for their help in this case. Likewise, the delegate of the National Defense, Major Roberto Ramis, gave his support to the volunteers. For their part, the Activists for Peace offered the children a moment of recreation.
Details
Date:
access_time Tuesday, January 31, 2017