Reeducation in Chile for an ecological conscience
Global Embassy of Activists for Peace
Reeducation in Chile for an ecological conscience
As part of the celebration of World Environment Day, 769 students in Chile participated in educational sessions conducted by the GEAP, aimed at environmental reeducation to promote ecological awareness.
The sessions were held in educational institutions in six cities, from the initial level (kindergarten) to secondary (third grade). See list of educational units
Among the topics developed: The recognition of Mother Earth as a living being and its inalienable rights, and the teaching of the 5R's (Reduce, Recycle, Reuse, Reeducate and Reject).
Through the International Program Children of Mother Earth, the GEAP emphasizes environmental education as a power that can generate positive changes in society to reverse the damage caused to the environment.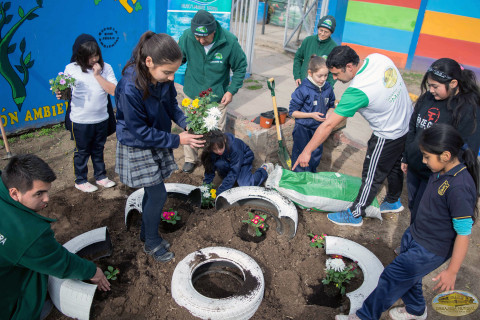 Chile reuses and sows life.
Environment Fair   
During the celebration of June 5, the GEAP received an invitation from the Department of the Environment of the municipalities of Puente Alto (Metropolitan Region) and Calama (Antofagasta Region) to participate at the Environment Fair.
The Activists for peace joined this initiative along with other institutions, environmentalists, among others, to raise awareness and promote citizen action for the care of the habitat and preservation of natural life.
Details
Date:
access_time Monday, June 5, 2017