Club R invites students to protect the environment in Panama
Global Embassy of Activists for Peace
Club R invites students to protect the environment in Panama
As part of the activities carried out by the Global Embassy of Activists for Peace (GEAP), the Club R visited the Escuela Estado de Libia of the city of Panama, to make students aware of the importance of applying the 5R's to the environment (Recycle, Reuse, Reject, Reduce and Re-educate).
480 children from elementary school, accompanied by their teachers, shared some moments with the Guardians for the Peace of Mother Earth through an educational talk on the need to recognize Mother Earth as a living being.
Likewise, the characters Flori and Thorny invited the students to care for Mother Earth through actions that they can do from their homes. The Guardians also carried out dynamics that facilitated the learning of the children.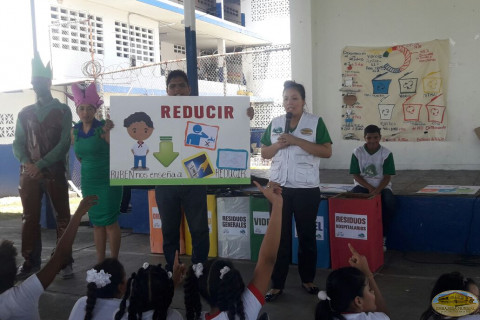 Environmental issues
In addition, the student community received an exhibition about different topics, including:
The classification organic and inorganic waste and
the time it takes for the materials to decompose
The Activists for Peace in Panama developed these environmental activities under the strategies established by the International Program Children of Mother Earth that is implemented by the GEAP.
Details
Date:
access_time Monday, June 12, 2017