The 4th Peace Integration Summit hosted by Guatemala begins
Global Embassy of Activists for Peace
For the fourth consecutive time, authorities of supranational organizations, government officials, ambassadors, high court judges, university rectors, academics, social leaders, representatives of indigenous peoples, scientists, environmentalists, and entrepreneurs from different countries, meet at the of Peace Integration Summit, CUMIPAZ, in its 2018 edition.
From the Republic of Guatemala, the host country this year, it is expected that those present will link with each other and that proposals will be presented for integral peace, sustainable development, and the preservation of Mother Earth; likewise, the presentation of the results and the follow-up of actions and commitments established in Panama, 2017 and previous editions.
The opening ceremony of CUMIPAZ 2018 will take place at the National Palace of Culture in Guatemala City at 9:00 a.m. local time.

First session
The inauguration of the Summit will be followed by the opening of the Session: Science for the Preservation of the Life of Mother Earth and of the Human Being. The main topics will focus on scientific and alternative advances for the preservation of the life of the human being, and the preservation of the ecological balance of Mother Earth.
Climate change
Among the speakers, Nobel Peace Prize Laureate 2007, Rajendra Pachauri, with the topic: 2018, reality of climate change and what we can do as citizens to stop and mitigate its effects.
The science of the heart
Part of the main topics this year will be developed by Rollin McCraty, Director of Research at HeartMath Institute (United States), who will speak about Energy connectivity: Coherence and the global field environment; and the General Director of the Institute of Education in Values ​​(Spain), Juan Antonio López Benedí, who will speak about: Intelligent heart: Know, feel and train the science of the heart.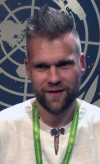 Also participating will be Dmitrii Kharakka-Zaitsev, representative of the Permanent Forum of the United Nations of Indigenous Peoples (Russian Federation); Oscar Cóbar, National Secretary of Science and Technology of Guatemala, among others.
Other proposals will focus on: Biosystems specialized in irrigation and biofuel production, by Tania Martínez, Indigenous Mixe, Youth Prize (Mexico), and Energy, nanotechnology and waste management, by Susana Arrechea, PhD in Nanotechnology (Guatemala ).
Objective
This session seeks to integrate, synchronize and promote alternative knowledge of indigenous scientific, technological, and ancestral knowledge, based on universal principles and values, human rights and Mother Earth, through actions applied to the fundamental pillars of society and firm commitments of the actors, to achieve comprehensive peace, happiness and the preservation of life.
to see more about the Science Session
See other sessions of the CUMIPAZ 2018
Details
Proyecto:
CUMIPAZ Peace Integration Summit