Volunteers of the GEAP execute actions that foster a culture of solidarity
Global Embassy of Activists for Peace
Volunteers of the GEAP execute actions that foster a culture of solidarity
During the months of April, May and October 2015, the Global Embassy of Activists for Peace (GEAP) in Argentina, developed awareness talks in different cities, activities that were supported by educational and health institutions.
The GEAP volunteers concentrated on different pedestrian areas, where informative modules were installed, allowing the community to receive material explaining the importance of donating blood.
The community work that gave way to the 5th International Marathon "Life is in the Blood", had the support of the Maternal and Child Hospital of the community of Azul and the Teacher Training Institute, among other organizations.
Habitants attended the call
The red streets of the most tourist pedestrian of Resistencia, invited neighbors to participate in the talks on April 18 and 25, also, on May 16 and 30; two days where the importance of being a voluntary, altruistic and habitual donor of safe blood became known.
Activities for life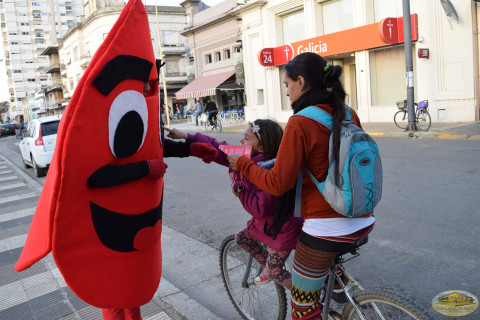 Under the slogan "Celebrating life", hundreds of people attended the second edition of Expo Salud in the city of Azul, on the 1st and 2nd of October; event that brought together the institutions that work to create a culture of voluntary blood donation in society.
The citizens visited the informative modules of the GEAP installed in the place, where they knew about the need to become a voluntary and regular donor, as well as the dates of the blood drives, among other points.
A musical environment and children's games allowed the population to spend a different time, and at the same time know that they can save the lives of many people voluntarily donating blood.
Expo Salud is an event organized by the Pediatric Residency of the Maternal and Child Hospital, where the different residences that make up this health center meet, which aims to teach good health habits to the community.
Details
Date:
access_time Saturday, May 30, 2015