An environmental commitment was promoted in Paraguay for the commemoration of the International Day of Mother Earth
Global Embassy of Activists for Peace
An environmental commitment was promoted in Paraguay for the commemoration of the International Day of Mother Earth
Around 2,500 students, academic and governmental authorities, were involved in the activities planned by the GEAP
With the commitment of taking action in favor of Mother Earth, the Activists for Peace in Paraguay developed restoration and environmental education marathons in the Central Department, from April 19 through 22; activities carried out in commemoration of the International Mother Earth Day, which involved thousands of citizens who took environmental commitment with the protection and restoration of the common home.
The educational workshops took place in elementary and middle school institutions, which covered about 2,500 Paraguayan students, who received training in environmental values, focused on the recognition of Mother Earth as a living being and its inalienable rights; fundamental ethical principle of the International Program "Children of Mother Earth" promoted by the Global Embassy of Activists for Peace (GEAP).
The proposal presented by the GEAP, the new Universal Declaration of the Rights of Mother Earth, was socialized through environmental talks, which will be taken to the UN; the Activists promoted their support for this project with an electronic signature, which was supported by academic and municipality authorities, students, teachers and the rest of the citizens. (See: Universal Declaration of the Rights of Mother Earth).
The restoration marathons were focused on the planting of trees, in the midst of commemorative activities, especially the day of the celebration (April 22), carried out by the Activists along with Government and civil society organizations, municipal entities related to the environment and educational institutes.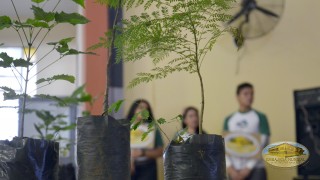 Colegio Vicente Ignacio Iturbe was one of the places where the activities were developed; in this event, the Activists coordinated with the Secretariat of Environment (SEAM) the planting of small trees, where executives from the compound, representatives of the SEAM and volunteers of the GEAP were in charge.
On the other hand, in the city of Capiatá, a solemn ceremony took place in the town square with the presence of the mayor, Mr. Luis Fernando González and representatives from the Fire Department, Red Cross, National Police and school authorities; a tree planting marathon was also conducted at the event.
Another outstanding experience was the promotion of the activities and especially the electronic signature in support of the Declaration, through the television program "Camino al Éxito," broadcasted regularly by Channel 13, which is of great impact on youth viewership.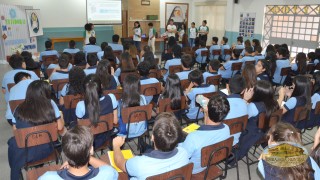 The sessions were also carried out at the following institutions: San Francisco de Asís school, Nacional Dr. Juan José Soler de la ciudad de Villa Elisa school, Dr. Blas Garay, Colegio Nacional Reino de Suecia school, Dr. Moisés Bertoni school and Vicente Ignacio Iturbe de Asunción school; Niño Jesús de Praga school and Enrique Soler de la ciudad de Capiatá school.
Details
Date:
access_time Tuesday, April 19, 2016