Day of Education and awareness in San Salvador, through the International Fair for Peace of Mother Earth
Global Embassy of Activists for Peace
Day of Education and awareness in San Salvador, through the International Fair for Peace of Mother Earth
With the purpose of educating present and future generations about the importance of defending and above all, protecting our Mother Earth, and with the aim to raise awareness about her recognition as a living being with rights, the Global Embassy of Activists for Peace along with the Ministry of Education of El Salvador, carried out the International Fair for the Peace of Mother Earth on April 21, 2016 in the Central Park of San Martin, in the city of San Salvador and in the framework of celebrating the "International Mother Earth Day".



The event was supported with the participation of the CEO of GEAP, Dr. William Soto; Gabriela Lara, as Director General; Samuel Escobar, coordinator of the GEAP in El Salvador; Rosa Abarca, Education Director; members of the Municipal Civil Protection Commission; a representative of the Mayor and the presence of young students, representatives of educational institutions.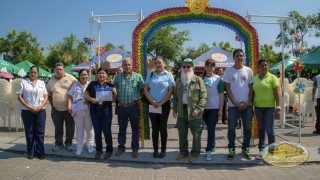 Rosa Abarca, represented the Education Department, in a call to prioritize the care of water resources; this is in response to the crisis El Salvador is facing with the drinking water; thus convened to initiate actions that produce positive results for the environment.

 
  "Let's take care of the environment. Earth is where we live, it's our Mother Earth, and it's where we are and where in some future we will end up as well. So let's take care of her and let our journey on Earth be the best possible and let's take care of our natural resources." - Rosa Abarca
Dr. William Soto, on his behalf, pointed out the importance of safeguarding, parting from every field, the survival of species, both animal, and vegetables, to guarantee the continuity of life on Earth.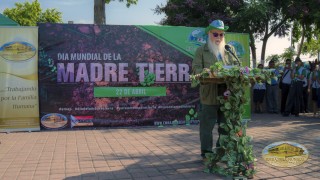 "Mother Earth has the right to keep the integrity of its original species, whether they are plants or animals including human beings; and not be manipulated or genetically altered, just like there should be a control of hunting and fishing indiscriminately, and overproduction of agricultural  to meet human and animal consumption." -Dr. William Soto
Representing the Mayor, Dr. Jorge Rivera, said: "It is important for children now, to have a conscience that permits them to prepare for the future; because if we do not, then we will suffer the consequences."



The event held prior to the worldwide celebration of Earth Day, was the call to work as Guardians for the Peace of Mother Earth, a sum of efforts for its care and protection.



At the end, students who gathered from different schools toured the six environmental brigades prepared by the young Guardians of the International Program "Children of Mother Earth". These participants had the opportunity to listen to the mechanisms and simple actions that benefit the preservation of the hydrosphere, geosphere, atmosphere, plant biodiversity, animal biodiversity and the human beings.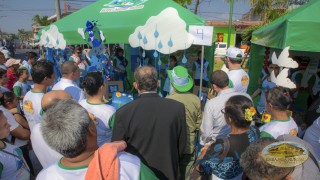 Details
Date:
access_time Thursday, April 21, 2016