The Children of Mother Earth in El Salvador celebrated International Mother Earth Day with ceremonies, dances and songs
Global Embassy of Activists for Peace
The Children of Mother Earth in El Salvador celebrated International Mother Earth Day with ceremonies, dances and songs
At the Cuscatlán park of San Salvador, government officials, representatives from indigenous and environmental organizations, Guardians for the Peace of Mother Earth and members of civil society gathered to celebrate International Mother Earth Day, a date that was designated for each April 22nd.
The event organized by the Global Embassy of Activists for Peace (GEAP) in partnership with the National Indigenous Coordinating Council of El Salvador (CCNIS), sensitized with peace, love, and responsibility on the importance and privilege that human beings have been placed as guardians and custodians of Mother Earth.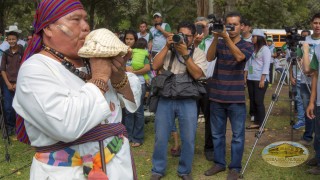 The opening act was led by members of the Nahuatl people and with their participation in the opening ceremony, all the attendees, who were looking towards the four cardinal points, thanked fire, air, water and earth for its kindness toward humanity. Afterward, children from this community sang in their own language the National Anthem of the Republic of El Salvador.
The opening words were given by Dr. William Soto, executive president of the GEAP, who in addition to emphasizing the importance of this day, called for awareness to achieve through the sum of wills the scope that is required, and thus, saves our Mother Earth.
"We are inviting all national and international organizations, states, educational institutions, non-governmental organizations, organized communities and the citizens of the world to sign this petition that we are making to the United Nations so that our only home, our Mother Earth, can be declared a living being and her fundamental rights can be recognized".
The table of honor was also integrated by Gabriela Lara, director general of the GEAP; Yanira del Carmen Cortez, procurator for the defense of human rights; Mrs. Betty Pérez, CCNIS coordinator; Eric Doradea, coordinator of Native Arts and Culture of the Municipality of San Salvador; Jesús Amadeo Martínez, president of the Central American Indigenous Council (CICA); Dennis Romero, mayor of Tejutepeque; and Miguel Arévalo, mayor of Soyapango.
"We hope that many of us will begin to play that important role of caretakers and healers of Mother Earth and of the Salvadoran State; particularly this government, to start- from the institutional framework that is within its reach- to take urgent measures, not just words", expressed the representative of CCNIS, Betty Pérez.
"For several decades we have not taken care of our natural goods, we have not understood what you have understood (referring to the indigenous people) that if we do not learn to care of natural goods, human rights are going to be seriously affected. And that statement has not been understood, we have not understood the relationship that exist between the environment and the full force of human rights", said Yanira del Carmen Cortez during her participation.
On his part, the representative of City Hall of San Salvador, Mr. Eric Doradea, called upon the public present to reflect on the responsibility of human beings with Mother Earth:
"This 22nd of April, we are called to create a common awareness to pollution problems, biodiversity conservation, deforestation, water stress, as well as the climate change that affects us. It is not only a day to celebrate but to act, pay homage and recognize the Earth as our home and our mother, as the indigenous peoples do."
In his speech, the municipal government of Tujutepeque expressed the special concern to touch the heart and mind of other representatives of the government with the purpose to work together in the exercise of environmental awareness education; therefore, he requested meetings like this one in his department.
On his part, the mayor of Soyapango, Mr. Miguel Arévalo, said:
"Sorry, Mother Earth, for the damage we have caused. The love you have given us has been great and yet we, as your children have not valued it. You have reason to punish us, Mother Earth. But this is a call to all because the social violence that we suffer from is a consequence of that stress, that climate change that we have spoken of. It is time to act. Let us all go and do our part."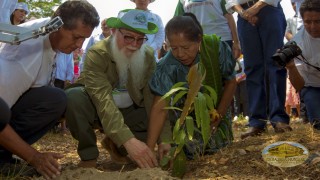 Next and in accordance with the theme of celebration of this year 2016: "Trees for the earth", the symbolic planting of trees was carried out; main act that Dr. William Soto and Mrs. Lidia Ama, CCNIS representative, accompanied the planting while interpreting a very special song for the indigenous peoples: "Amada Tonantzin, I come to say, I really love you, I am a part of you. Water is my blood, wind my breath, fire my spirit."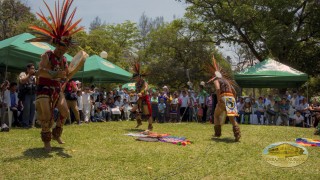 With ancestral dances, the indigenous peoples concluded this special encounter by making a call to everyone to join forces and wills with the objective to save Earth Mother.
Details
Date:
access_time Friday, April 22, 2016