Circular economy: Reduction of consumption for sustainable development
Global Embassy of Activists for Peace
See Gallery
Senior Advisor of the Circular Economy Platform of the Americas and the ASDF, USA, Kenneth Alston, joined the work of the Peace Integration Summit (CUMIPAZ 2018) to discuss the circular economy as a model of business and the de carbonization of production and consumption systems.
His keynote address was part of the Corporate Social Responsibility Session for Sustainable Development , with the purpose of highlighting the importance of organizations to actively involve CSR within its mission, its institutional values ​​and its business strategies.
Alston commented that the challenge of the circular economy is not only to recycle, but to choose materials of production and consumption to have a system that collects things after using them so that they can be used again and again.
"Meeting the needs of the present generation without compromising the ability of future generations to meet theirs is the common concept of sustainable development, but how do we make this happen? We must have a change towards the circular economy, " he said.
Economy, social equity and ecology
The expert indicated that the economy should be intentionally restorative and include social equity and ecology in its system so that circularity is sustainable and reverse some of the damage caused.
"We can redesign a circular economy system where we have materials and products designed to be sustainable and beneficial, " Alston said.
Likewise, he pointed out that it is necessary to educate a lot more in the governments, universities, companies and society in general for the implementation of this new economy as part of the beginning of a sustainable world.
Change of economic paradigm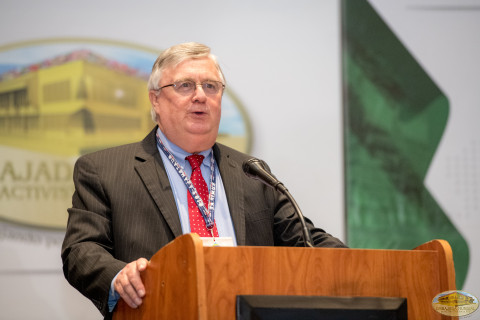 For Alston, the linear economy model is unsustainable due to pollution by means of garbage, emphasizing the change of production concept (use and reuse) to create systems of use and disuse.
He also indicated that one of the objectives of the redesign economy was to have companies dedicated to decarbonizing the soil and that this non-metal returns to its original place (soil) with considerable benefits for the environment.
Details
Proyecto:
CUMIPAZ Peace Integration Summit