As part of an inter-institutional cooperation agreement, the legislative forum "Veracruz as a spearhead in the construction of a culture of peace in education" was held in the Cristales Hall of the Honorable Congress of Veracruz, Mexico, which included the attendance of 220 students from various houses of study.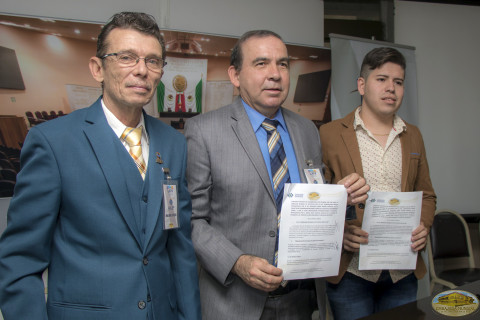 The forum led to the signing of the collaboration agreement.
The organization of this event was in charge of deputy José Kirsch Sánchez and the Global Embassy of Activists for Peace (GEAP), after the implementation of the chair for peace in section III of article 154 of the Education Law was approved, of the State of Veracruz by Ignacio de la Llave.
The law is aimed at universities and establishes in its curriculum the Chair for Peace, which is an educational program that will allow them to reflect on the role that students in society must play as promoters of a culture of peace and transformational leaders.
Government agencies and representatives of the educational field of the Veracruz entity, made an appearance in the academic activity:
The Secretary of Government, Rogelio Franco Castán

The Undersecretary of Legal Affairs and Legislative Affairs of the Government Secretariat, Lauro López Zumaya

The vice president of the permanent deputation of the Honorable State Congress, José Kirsch Sánchez

The president of the Federation of Universities and Private Institutions of Education, Arturo Mattiello Canales

The president of the José Martí Educational School Group, Carlos Arturo Luna Escudero

The national coordinator of the GEAP, Francisco Guerra
220 students join Forum.

University students receive training in values
Through the Chair for Peace, university students will receive a training in values to work responsibly in the promotion and defense of human rights, as well as recognition of the rights of Mother Earth as a living being.
The forum led to the signing of the collaboration agreement between the International Alliance of Universities for Peace (ALIUP), the Deputy José Kirsch Sánchez, the Interdisciplinary Student Organization and the Polytechnic University of Huatusco.