Miguel Ángel Chico Herrera |The contribution of regional blocks for human and social development, defense of human rights, welfare, and peace of nations and for overcoming inequalities in the continent.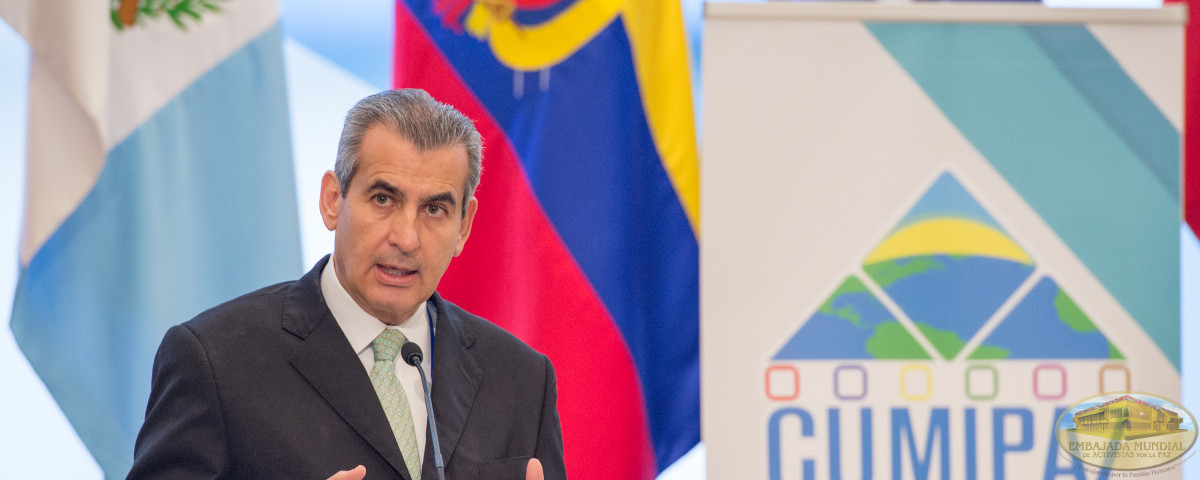 Thank you very much for the invitation. Gabriela Lara, please be the kind conduit in greeting Dr. William Soto Santiago, and truthfully we have missed him; let's hope he's better, thank you very much.
To tell you that I have the honor of presiding over the Parliamentary Confederation of the Americas, which is a continental body that brings together local congresses and also brings together federal congresses. It is an organization that has sought to overcome the continent through our legislation, through local congresses and national congresses.
We have six commissions, namely: Citizen Security, Democracy and Peace, Health, Education, Economy and Commercial Blocks, and Human Rights.
As President of the Parliamentary Confederation of the Americas, it is an honor to be able to share with you my vision of the political and social contribution of the continental blocs for the benefit of the peoples of the Americas.
People are the reason behind of any work that we develop in the political sphere, whether national or international. Politics and public policies must focus on human life. Only by giving all the attention and all the human resources at our disposal in bringing people to a dignified and full life, we will be able to fulfill, if we achieve these premises, we will be able to achieve our objectives.
Politicians, legislators, we must be able to bring them closer to happiness, provide them with the necessary resources to allow their development, setting aside traditional policies to create new models that foster a more egalitarian and more just society.
We must not err in the diagnosis: Life is governed in cycles and it is our duty to make them virtuous.
When individuals develop themselves, they create community and establish a solid social fabric; when society joins, it brings new models of global governance, where cooperation prevails in the face of conflict and where peace can be achieved.
Thus, the work for the citizens of our countries becomes efforts for a complete international community, in the work that can achieve the ultimate goals of those of us who work to achieve peace.
Einstein said: "I am firmly convinced that most people of the world prefer to live in peace and security. (And added) The desire for peace of humanity can only become reality through the creation of a world government."
This World Government refers to the capacity of the community to unite, to achieve its objectives; it is a personification —sometimes figurative— of a system capable of reaching agreements that benefit all of humanity.
Like any process, world peace can only be achieved when it has been cemented on the ground on which it is built. The economic models prevailing in the world have failed in the redistribution of wealth. We have achieved important objectives by reducing gaps and eradicating false solutions many times, but we have not managed to reduce inequality in our countries.
We have not managed to build stable floors on which all individuals can stand. Yes we have achieved macroeconomic stability, but we have forgotten that people are central.
It is necessary to rethink these systems, find new ways of making politics more effectively serve the population, that the economy benefits those who build the populations; find balances where the benefits of the economy prevail, the benefits of the market, but also give citizens access to meet their minimum needs.
It is necessary to take up approaches such as human development (as the most recognized exponent is, perhaps, the 1988 Nobel Prize winner in economics, Amartya Sen), approaches where the economic alternative in which people seek to equip people with skills is proposed, to stop thinking that the success or failure of one or another nation falls in the economic growth, and to seek, rather, the happiness of the people that determine the value of work.
Understanding that only when citizens are full can virtuous development circles be generated; it is a fundamental part of the changes we need to achieve peace.
Only when we all have the rights and basic access to what is needed to achieve a dignified life, can we speak of true cooperation.
The value of human life lies entirely with the ability of States to guarantee access to their citizens. Human reality is far from the coldness reflected in the numbers we see in the economic indicators. Human dignity is non-negotiable.
The foregoing has an inexorable link with the defense of human rights, and —I repeat— putting people and not numbers at the center of government work, should be the priority.
The defense of human rights focuses on the idea that we are all equal and deserve the same treatment. The defense of living conditions and civilization become fundamental in contexts such as the current one.
We all have to make new efforts to always keep in mind that our actions are guided by human rights approaches.
The idea of ​​the nation-state, which sees its sphere constrained to borders, has been overcome by a dynamic reality of political, social, economic, and commercial interconnection, the presence of new actors that collaborate as promoters of development agendas and that lend themselves as forums for debate, have come to change the global environment; organizations where ideas and initiatives that seek to improve the world are overflowing.
Global cooperation is a fundamental element in the balance of our countries, of our societies, and that provides communication channels to the representatives of Governments.
Today the international organizations, the regional blocks have assumed a new role within the dynamics of the world order; the mediation of conflicts between nations is their only sole objective. As members we push agendas, we integrate into parliamentary, economic, political, and social agreements.
The role of these new models of international cooperation has been fundamental in the creation of agendas that focus on issues that, sometimes, focused on our own problems, we ignore as the clear objective and the total understanding that alone, we will achieve neither peace nor prosperity, and that we inhabit a shared global ecosystem.
The regional blocks supported by international organizations have not only been concerned with presenting agendas. In our continent, the Organization of American States, parliamentary bodies such as COPA (which I have the honor of presiding over), Parlatino, and organizations such as the UN, have played a fundamental role in helping us understand our advances but also our lags.
Their struggles around the protection of human rights and development, has ensured that the best practices are addressed by the countries.
We have worked to generate legal and constitutional frameworks to improve the lives of our citizens, and we have shared the responsibility to protect the most fundamental value of our society: democracy.
Today voices that try to deceive us and make us believe that the solution lies in isolating ourselves, in confrontation are raised. Nothing could be more wrong! We have evolved as a society and as an international system to one of intense cooperation that allows us to be better.
We must be strong and face, with ideas and facts, those who seek to erect walls that separate those of us who are brothers. We must support each other to endure the attacks of demagogy with stoicism. We must work together to make our states stronger and we must avoid regressive temptations.
The responsibilities that the regional blocs bear in the construction of countries with states of solid law, equality, development, and defense of human rights are fundamental. It not only responds to the construction of prosperous nations, but also contributes enormously to international dynamics that foster cooperation and that will ultimately result in peace.
It is our job to build agreements to be closer to these objectives; the tasks are difficult, titanic, but I'm sure they're worth a try.
My country, Mexico, has built much of its modern history around a phrase coined by one of our great heroes: Benito Juarez, Benemérito de las Américas, said: "Between individuals as between nations, respect for the rights of others is peace."
Today, dear friends, today I invite you to reflect on this idea.
Thank you very much, you are very kind.
Details
Date:
access_time Wed, 10/18/2017 - 12:00