"The Challenges of Access to Education for Vulnerable Groups" - Dr. Danysabel Caballero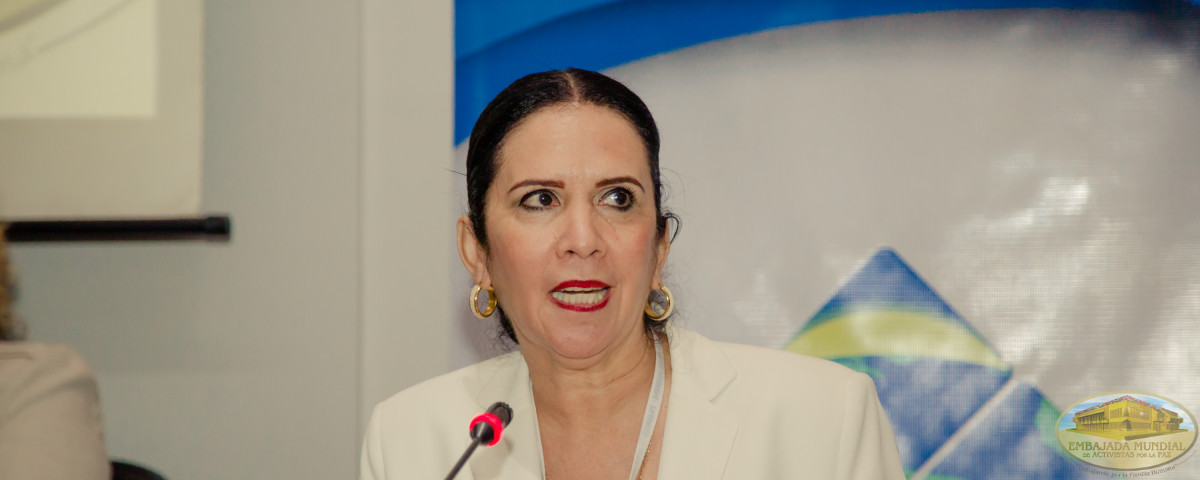 Good morning, a special greeting from this section, to the promoter of this second World Peace Summit, Dr. William Soto Santiago, and with him all his support and volunteer team; I also wish to offer a special greeting to our Deputy Minister of Indian Affairs of the Ministry of Government and Justice of the Republic of Panama, who also accompanies us this morning. Thank you, Mr. Vice Minister, for your presence in this room.
I consider that in these three days that we have to be in session, without fear of being wrong, this is the most important table, the most representative; in the hands of us educators is the diffusion of everything we create, agree, normalize or legislate. That is undeniable.
We have been invited, my university, by the organization; For the first time we participate in this event, and we are privileged. The President of my university, Dr. Juan Bosco Bernal, was unable to attend; Nevertheless, we are here in representation of him. As the coordinator has said, my job in the university is Dean of Student Life; I manage volunteer groups, social services, which has a lot to do with what we are discussing here today.
I must tell you that the Republic of Panama has five state universities. The Specialized University of the Americas, which I represent, is the fourth university, in order of creation; we are a very young university, this year we are barely 19 years old. These five universities in a context of 28 private universities. And based on that, I come to share with you a little of what we do in our humanist and peace culture approach that we carry out in UDELAS.
I wanted to frame my presentation as a background that I considered opportune to share with you, and it is in relation to what is peace?; we have been disaggregating and managing this since day one, and I managed to point out in these three.
On an individual and social level, peace is the ideal state that a human being or a society can have or aspire to, since it achieves a situation of total harmony and balance between the heart and the mind of the individual. It is, therefore, an absence of conflicts and struggles.
And Pedro Duque, Director General of Deimos Imaging and Astronaut, tells us: "The individual peace, of a society or of the world, are objectives of all and, although unattainable, they must never be lost sight of. Achieving peace and achieving justice is almost the same: there can be no peace if one part of society perceives mistreatment of another."
Federico Mayor Zaragoza, President of the Culture of Peace Foundation, states in this regard: "Peace is to keep in mind at every moment the equal dignity of all human beings, capable of creating, of inventing their destiny, of not giving up themselves. Peace is to live serenely, intensely, sowing every day seeds of love and concord. Peace is to walk against the wind, all different, all united by common values."
And what does the General Assembly of the United Nations tell us in this regard? [Article I] "A culture of peace is a set of values, attitudes, traditions, behaviors and lifestyles based on (and I only cite the first):
(a) Respect for life, the end of violence and the promotion and practice of non-violence through education, dialogue and cooperation."
When we talk about vulnerability or access of vulnerable groups to higher education, we are talking about ethnic minorities, we are talking about disability ... and I was telling Gloria a moment ago - Gloria said to me: "Well, the concept of disability, which has been considered limited, has been expanded by special educational needs, for attention to diversity. For UDELAS it is a founding principle, that's why we emphasize it in this presentation. We speak of the populations with scarce resources, and also of women.
Like all universities, like all institutions of higher education, UDELAS has a strategic plan, with an educational model that delineates the route, it's the DNA of our institution and each one of you. The head of our institution said the following words about the educational model of our institution: "In a country like Panama, where knowledge and scientific research are a poorly hierarchical variable within the scale of priorities of the State, taking on the task of education to students with disabilities, to students from original groups or with special educational needs at the higher level, represents an act of institutional courage and responsibility towards the future; Because it is a segment of the population that demands the attention of their rights to be educated, and to enjoy the opportunity to work and live with dignity."
I have quoted the words of our President because what we do is consistent with these postulates, it follows a logic; and in that sense, I present you my university, the fourth official university of the Panamanian State; it is a public university, founded in 1997, just (as I said) we are going to turn 19 years old, it is a young university, but with great brightness; you saw the name of the university: The Specialized University of the Americas. Our educational offer is novel, obeys the ... to that cry, to that listening of society, the community, the population and their needs, and around that we configure our academic offer.
The UDELAS is an inclusive institution with vision and social sensitivity; it has succeeded in promoting an academic offer of quality and relevance, with careers that aim to meet the needs and demands of people and society, both at headquarters and in the extensions and communities of vulnerable indigenous, rural and marginal urban groups. All of the careers pay attention to diversity, to the development of professional and socio-affective competences, with the aim of equipping their students with cognitive skills, discernment, human sensitivity and citizen values.
Here in a very compressed way, this is what we offer in UDELAS. We have about 12,100 students currently, and 21,471 alumni; we have 4 colleges and we manage at the level of deans, 8 deans; we have 38 technical and bachelor degrees, all novel and relevant to social needs; 45 postgraduate and masters degrees; 2 doctorates: a doctorate in Education Sciences, with a focus on Social Education and Human Development, and a doctorate in Health and Behavioral Sciences. We have interdisciplinary clinics that serve 14 different specialties, at very low costs; we have 8 programs in vulnerable areas, some indigenous and other rural areas; we have university extensions in 5 provinces, and we also offer about 45 graduate degrees.
I like this image very much, and being out of my area, I think I value it and think about it much more. Here we can see the areas where UDELAS is located throughout the national territory; here we can see in the list the programs we have, academic programs in county areas, in indigenous areas, in very difficult access areas; so I am very happy that the Vice Minister accompanies us today, because it is part of the support we require in the university.
And how does UDELAS take into account the vulnerable sectors of society in access to its programs? I want to tell you that we start from admissions. (Here is a companion who is from Puerto Rico). We make use of the services provided by the College Board, with all the regulations and indications that must be applied to the College Board tests, which are standardized tests; although, the student must pass the admission tests, it is not a condition to enter; we advocate for an open admission; by open admission: all the students we can host and we accompany them through tutorials for academic success; Students with disabilities, students with any special educational needs they may have; and this is a source of great pride for the university, because it is not easy that, especially the native groups, have the same standards as a young man who has other facilities in the city.
We have a robust scholarship program (I know this is different in all our countries), UDELAS has a meager budget and we try to have access to education through the scholarship program. (We commented to my partner) We have a type of scholarship that is exclusive to indigenous communities and it involves everything, all schooling, they do not have to pay anything for indigenous students, there are special scholarships for vulnerable groups and scholarships for populations with disabilities.
These are the ... I wanted to illustrate a little the native tribes that Panama has: Wounaan, Ngöbe, Bugle, Bri bri, Teribe, Naso, Kuna and Emberá. However, we point out in the UDELAS the following: The experience developed by UDELAS is based on the university policy that includes two major programs: one (as I said a moment ago), the indigenous scholarship program; and we, in Panama, are the only university that has academic programs in the county regions in indigenous languages. We have a program called Intercultural Bilingual Education in Nobe language and an Intercultural Bilingual Education program in the Kuna language.
Here I show you a graph of the support in the granting of scholarships in the academic programs that go the extra mile or have greater needs, and thus are served from the UDELAS.
In relation to the attention to people with special educational needs we have a center, we affectionately call it CADI, which is the Center for Attention to Diversity; this is a field of practice for our students because the academic offer of UDELAS implies that each of the careers has an important practice component.
So, we have the Diversity Support Center, where our students are served with any kind of needs; the scholarship system for them as well; tutorials; and we have adapted our 5 headquarter buildings with elevators for people who have mobility issues or with ramps for the structural access by these people.
I have here, as a model, the different careers (we have here on the right): Difficulties in Learning, Respiratory Therapies, Physical Activity, Speech Therapy, Biomechanical Engineering, Physical
Activity, ETOF, Therapeutic Social Education, Educational Informatics, Speech-Language Pathology, Special Education, DIFA, and Psychology. And on the left the type of disability of students who have accessed these careers.
Similarly, we have a large important group of 25 officials with some type of disability and who work permanently with us. We also give special attention to women; faced with this phenomenon of enrollment feminization, in the face of violence, we have given it an important place in the Specialized University of the Americas. We have a gender commission that is also aggressive, we not only promote respect for women ..., our Vice President is a woman, the five Extension Directors are women; and of the eight deans, six are women and two are men, so what better example, right?
And here by way of conclusions or final reflections. The university and the new context to where we are headed: from the indifference to social commitment and ethical responsibility; from isolation to interdependence and network functioning; from intellectual reproduction to the creation and distribution of knowledge; from anomie to the center of thought and the critical vanguard; from institutional paralysis to dynamic and transcendent operation; from the homogeneous model to the creative and innovative differentiation; from the institution for few to the inclusive organization of access and success for all.
Thank you very much.
Details
Date:
access_time Thu, 10/06/2016 - 10:50