Vice President of Paraguay received an official invitation to CUMIPAZ – 2016
Global Embassy of Activists for Peace
This past July 25th, a committee of the Global Embassy of Activists for Peace (GEAP), led by the General Director, Mrs. Gabriela Lara, presented the Peace Integration Summit – CUMIPAZ – 2016, to the Vice President of the Republic of Paraguay.
During the meeting, the organizing committee of the Summit extended an official invitation to the honorable Vice President of the Republic, Juan Afara, to participate in CUMIPAZ – 2016, as a lecturer. The dignitary expressed his willingness to support the international event.
This annual high level meeting, will hold its second edition (2016) in Asuncion Paraguay, from October 4th to the 8th, at the Honorable National Congress; a building that will gather around 2,500 people committed towards peace for humanity. (See: Global call for CUMIPAZ 2016)
CUMIPAZ is a meeting of leaders and thinkers, with the objective of generating an international space of dialogue and integration for peace, a sustainable development, and the happiness of the integral human being and of the nations, in harmony with Mother Earth. This encounter calls upon global leaders and parliamentary, academic, judicial and political authorities, as well as the civil society of the world, who represent supranational organizations, States, Governments, organized civil society and the business sector.
To register and participate, please click the following link:
http://embajadamundialdeactivistasporlapaz.com/en/cumipaz/register
For more information, please contact us at the following email:
cumipaz@embajadadeactivistasporlapaz.com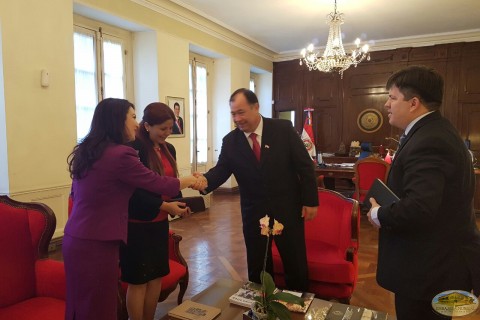 Details
Proyecto:
CUMIPAZ Peace Integration Summit