In Spain the awareness for the care of Mother Earth reached 2,500 people in the worldwide celebration of the Environment
Global Embassy of Activists for Peace
In Spain the awareness for the care of Mother Earth reached 2,500 people in the worldwide celebration of the Environment
The GEAP undertook activities along with public institutions and educational venues.
In celebration of the International Environment Day (June 5th), volunteers of the Global Embassy of Activists for Peace (GEAP) in Spain, along with an estimated 2500 people, participated in different activities in favor of Mother Earth, which involved discussions regarding the preservation of natural areas and environmental education; these activities, which extended for a week, were promoted by the International Program "Children of Mother Earth".
At the Collserola natural park in Barcelona, the Activists for Peace along with the League for the Defense of Natural Heritage (DEPANA) held a cleanup and restoration day of the area and at the same time they gave maintenance to 50 trees that were planted two months earlier.
At the same time, to work in favor of Mother Earth, activists in Tarragona attended a Meeting with the Civic Association to promote the project of a Signature for the Recognition of Mother Earth as a living being; a continuous work that this country is carrying out as a peaceful action to transmit knowledge that strengthens a sustainable future.
The Councilor of Education, Employment and Economic Development for the City of Tarragona, Francis Roca, expressed his support for the defense of the Rights of Mother Earth.
At the Civic Center of Tarragona, volunteers of the GEAP gave discussions on the 5R's (Reduce, Recycle, Reuse, Refuse and Re-educate), to children, parents and representatives to promote these environmental values for the protection and regeneration of Mother Earth.
As part of the closing of the activities, the children socialized what they learned and welcomed the children's group of the Guardians for the Peace for Mother Earth, an ecological youth movement of the GEAP.  The activity counted with recycled materials and commitments were made to pass on what they learned to family and friends.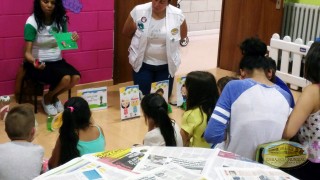 SEE:  Great global movement celebrated the life of Mother Earth and created actions for its peace and restoration.
Details
Date:
access_time Sunday, June 5, 2016