Medical students join blood drives
Global Embassy of Activists for Peace
Medical students join blood drives
As part of the comprehensive program "Life is in the Blood", the Global Embassy of Activists for Peace (GEAP) in Mexico, held blood drives on September 7 and 8 in Culiacán.
The Faculty of Medicine of the Autonomous University of Sinaloa (UAS) was the place where the GEAP along with the Standing Committee of Public Health (SCOPH) and the Blood Bank of the Civil Hospital of the region carried out the activity.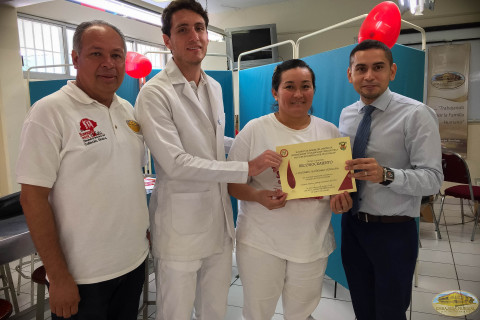 The blood donation campaign was supported by medical students from the UAS and the Activists for Peace, who received 54 voluntary donors, resulting in a total of 36 effective units of safe blood.
The promotion of the conference was held on September 1, with awareness talks where more than 150 university students received information about the benefits of donating blood and the myths that exist, among other points.
Everyone can save lives
Daniel Mora, local official of the Permanent Committee of Public Health (SCOPH), made reference to the potential that Mexicans have, also spoke of the importance of being a voluntary and habitual donor; he also expressed:
"This action leaves many teachings, and you will really know a part of yourself that only by doing this will you understand".
For his part, Jesús Medina, director of the Blood Bank of the Civil Hospital of Culiacán, said:
"The donation of altruistic blood is an achievement of all and is a good for all of us, since each of the units that we have been obtaining is to help save many lives; remember that 3 lives are being saved by donating".
The medical student, Jazive Reyes, after donating blood said: "I think it is a duty as a citizen to donate blood, because you can save many people and it costs you nothing".
On the way to the 8th International Marathon "Life is in the Blood", the Activists for Peace develop days throughout the national territory, with the aim of promoting a voluntary, altruistic and regular blood donation culture in society.
Details
Date:
access_time Thursday, September 8, 2016