The GEAP present at the UNFPII 17: Forum of Indigenous Peoples at the United Nations
Global Embassy of Activists for Peace
The GEAP present at the UNFPII 17: Forum of Indigenous Peoples at the United Nations
For a third consecutive year, a delegation from the Global Embassy of Activists for Peace was present in this maximum space for work, deliberations and analysis of Indigenous Peoples in the world: the Seventeenth Session of the Permanent Forum of the United Nations on Indigenous Affairs UNPFII 17. This event takes place for two weeks (from April 16 to the 27, 2018) at the permanent UN headquarters in New York.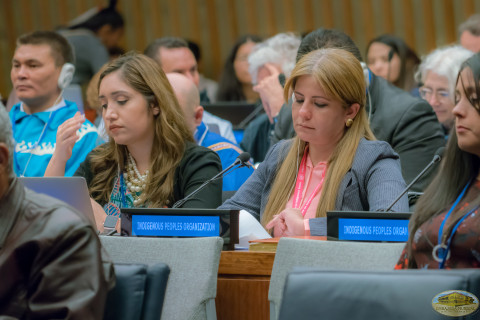 The United Nations Permanent Forum on Indigenous Issues (UNPFII) is a high-level advisory body of the Economic and Social Council. The Forum was established on July 28, 2000 with a mandate to address indigenous issues related to economic and social development, culture, environment, education, health and human rights.
This year's theme is: "Indigenous peoples' collective rights to lands, territories and resources." The first work week is devoted to holding open plenary sessions with the participation of indigenous representatives, Member States, non-governmental organizations and the entities of the United Nations.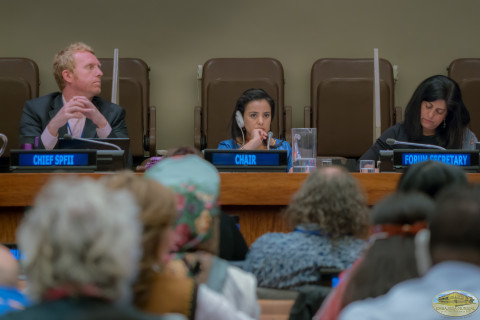 In partnership with the Abya Yala Indigenous Forum, the Global Embassy of Activists for Peace has been able to participate in plenary sessions and side events, both inside and outside the venue. The main purpose is to socialize the proposals for Environmental Governance and Justice, which the GEAP has embodied in a printed and digital document, in order deliver it to every entity related to environmental issues and indigenous peoples.
Different reunions and bilateral meetings have been held, establishing relationships and strengthening the articulations that have already been achieved, such as the Indigenous Council of Central America and the Indigenous Forum of Abya Yala. In addition, the participation in different conferences and presentation of works of the indigenous peoples of the world, which strengthens the knowledge to enrich the international program Children of Mother Earth, where one of its areas of intervention is the strengthening of the Rights of the Indigenous Peoples.
On Friday, April 20, 2018, the Global Embassy of Activists for Peace will be holding a side event in coordination with the Indigenous Forum of Abya Yala, in the plenary room of the United Nations. And all those attending the World Forum have been invited.
We invite you to follow the live broadcast on www.webtv.un.org, this Friday, April 20, 2018, at 1:15 pm, EDT.
Details
Date:
access_time Thursday, April 19, 2018