Environmental responsibility is promoted in Olavarría
Global Embassy of Activists for Peace
Environmental responsibility is promoted in Olavarría
Volunteers from the Global Embassy of Activists for Peace (GEAP) in Argentina, visited the School of Special Education No. 502, Graciana E. de Cazot, from the city of Olavarría, with the purpose of sharing with students about environmental values that are promoted by the International Program "Children of Mother Earth."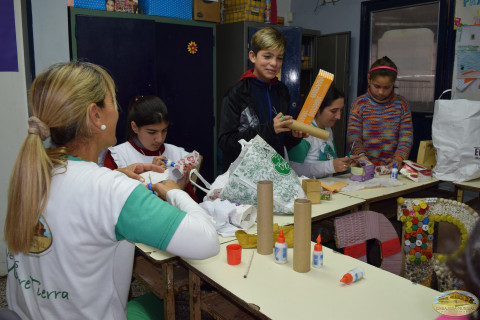 The activity began with the talk about the importance of recognizing Mother Earth as a living being, in charge of the Flori and Thorny characters (characterized by young activists of the GEAP), and the 5R's rules was announced: Recycling, Reduce, Reuse, Reject and Reeducate.
Then a practice was carried out where the students separated the waste in boxes lined with different colors to identify the materials (plastic, glass, organic, hazardous waste and paper), and the volunteers and students present made toys and accessories with material such as cardboard, scraps of fabrics, boxes, kitchen rolls and toilet paper.
The GEAP carries out these days with the aim of strengthening the awareness for the peace of Mother Earth, forming human beings with environmental responsibility, based on the universal recognition of Mother Earth as a living being.
Details
Date:
access_time Thursday, June 15, 2017