Declaration of provincial interest, the 5th Regional Encounter
Global Embassy of Activists for Peace
Declaration of provincial interest, the 5th Regional Encounter
The 5th Regional Encounter of the Children of Mother Earth, organized by the Global Embassy of Activists for Peace (GEAP), was held in the Eva Perón complex on the north of Argentina, with the objective to contribute ideas and solutions to protect, guard and restore Mother Earth with actions that promote a sustainable development.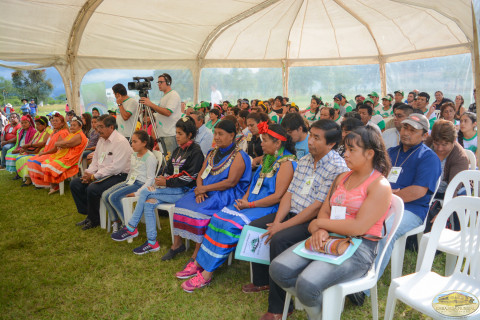 The Encounter counted with the presence of 81 communities of 11 indigenous communities of the provinces of Jujuy, Salta and Tucumán, who were grateful to the GEAP for the initiative on these activities that help the people learn and fraternally treat our Mother Earth.
The event started with welcoming words from Ana Caro, regional coordinator of Chaco, of the community of Tafí del Valle; Marta Álvarez, from the town of Diaguita, was present, as were the president of the Town Assembly of Guaraní; Flora Elsa Cruz, representative of the province Jujuy, and other representatives of high importance.
Propositions and Declarations
After these opening acts, the present towns proceeded to place 6 work tables, in where they developed the proposed themes by the GEAP.
The Director of the Claim of Rights of the Indigenous People, Alejandra Liquín, from the town of Kolla, read the Decree No. 3.314 of the Executive Power of the province of Jujuy, which declares the 5th Regional Encounter of the Program Children of Mother Earth of provincial interest.
Once the elaboration and redaction of the conclusions of each table was done, a representative of each table was designated, who later expressed and gave in plenary to Andrea Cardozo, regional coordinator of the GEAP in the province of Jujuy, the proposals.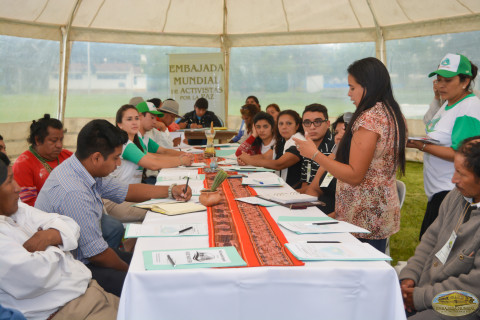 Present towns of each province:
Town Tohara, department of Cochinoca.

Town Guaraní, Quechua, fiscara of the province of Jujuy.

The community Ava Guaraní and Kolla, and the community Diaguita of the province of Salta.

Communities of Tucumán, the community of Angostura, Colalao and Diaguita of the ONPIA.
In these encounters, the global recognition of the Mother Earth as a living being that is the origin of everything that develops was considered important. By this recognition as a living being, Mother Earth must be treated as such, with rights that every human being must respect.
At the end of this encounter, Dominga Camargo, cacique of the community of Pichanal of the department of Orán, province of Salta, presented a festive dance as the closing ceremony, in which the volunteers of the GEAP joined as an expression of support and gratitude.
Details
Date:
access_time Wednesday, March 15, 2017