The Global Embassy of Activists for Peace (GEAP) in Colombia, through the International Alliance of Universities for Peace project (ALIUP), signed an agreement with the National Open and Distance University (UNAD), Cundinamarca.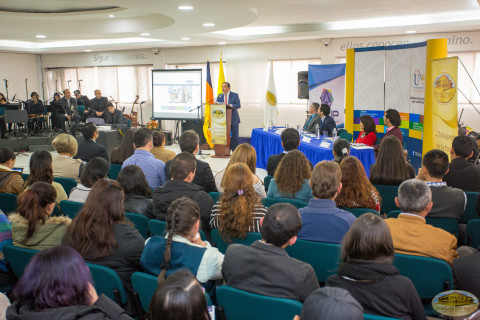 Intervention of Iván Sarmiento, National Coordinator of the Global Embassy of Activists for Peace in Colombia.
The purpose of ALIUP is to promote the appreciation of peace as a universal value, the development of projects, the dissemination of experiences and the creation of networks of institutions, professionals and students that promote the culture of peace and human rights.
Luz Pescador, zonal leader of the Academic and Research Vice-rectory; Carlos Márquez, zonal leader of the Vice-rectory of Regional Development; members of the Police Department of Cundinamarca; and representatives of the GEAP were present during the event.
Construction of peace
Carlos Vanegas, coordinator of the UNAD in the central area of Bogotá, said in his opening words: "It is gratifying that this new alliance brings together two institutions that have the same purpose in their roots, strong and effective actions in the construction of peace and of a more prosperous and equitable society".
For his part, Iván Sarmiento, national coordinator of the GEAP in Colombia, in his participation indicated that through the signing of the agreement seek to expand the joint promotion of good practices in the teaching and defense of human rights.
Juan Carlos García, National Coordinator of ALIUP, commenting on the benefits that the UNAD will have when making the alliance with the GEAP.

Strategic alliance
The coordinator of the ALIUP project in Colombia, Juan García, welcomed the UNAD with reference to the fact that the institution is a strategic ally in the work of building a culture of peace through quality education, aimed at the development of professional skills that are based on universal principles and values.
Next, the representatives of the GEAP and UNAD signed the agreement; the director of the house of studies received a pin of recognition with the logo of the ALIUP as a symbol of incorporation into the alliance.
Finally, the Symphony Orchestra of GEAP in Colombia performed musical pieces on the 432Hz frequency as a sample of the project "The Power of Music for Peace and Happiness of the Integral Human Being", which the institution carries out.