With a blood drive marathon the GEAP joined to the Global Day against Breast Cancer
Global Embassy of Activists for Peace
With a blood drive marathon the GEAP joined to the Global Day against Breast Cancer
On the occasion of the Global Day against Breast Cancer, the Global Embassy of Activists for Peace (GEAP) and the association APROCANCER carried out a blood donation marathon in Ciudad Juarez, Chihuahua.
The Association gives special attention to children and adults sick with cancer, contributing to a better quality of life, giving them orientation, medical treatment and psychological attention.
Through the blood drive marathon it was soughed men and women to participate voluntarily to help who suffer from this disease.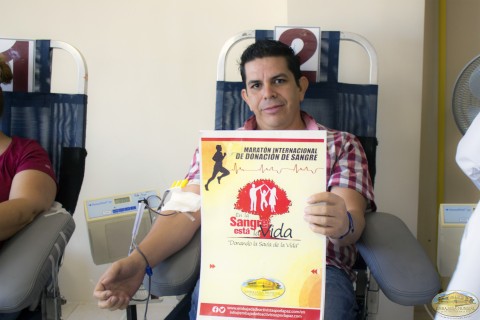 What the WHO says
According to WHO, breast cancer is the type of tumor most frequent among women; in Mexico the number of cases has increased, in a way that every two hours a Mexican woman dies of this disease.
The current knowledge on the causes of breast cancer are not enough, which is why early detection continues to be crucial in the fights against this disease.
The best way to help: donate blood
The GEAP and their Integral Program: "Life is in the Blood" has the purpose of promoting this principle of love and the universal values of the human family, so that the blood donation becomes a voluntary, solidary responsible and regular act.
One of the diseases that develops a continuous necessity of blood it is cancer, from there the importance of creating a culture of a voluntary, altruist and regular blood donation to guarantee the provision of the blood components to supply the therapeutic necessities of the patients.
For this reason, Julia Torres, president of APROCAMCER, expressed:
"We are donating to give life to our patients; so we thank you very much for donating this drop of life to our patients, who really needed. Much thanks, youth of the GEAP; to our patients this is invaluable".
Details
Date:
access_time Saturday, October 22, 2016