The Autonomous University of Nuevo Leon joins to the altruist blood donation
Global Embassy of Activists for Peace
The Autonomous University of Nuevo Leon joins to the altruist blood donation
Activistas de la EMAP trabajan para fomentar una cultura de donación voluntaria de sangre entre los estudiantes de la UANL
The Global Embassy of Activists for Peace (GEAP), with the State Center of Blood Transfusion (CETS) of Nuevo Leon, and the Autonomous University of Nuevo Leon (UANL), carried out donation campaigns on May 2nd through the 4th in the city of Monterrey, as part of the Program "Life is in the Blood".
With the purpose of contributing to the formation of a culture of voluntary, altruist and regular safe blood donation, and to increase the active and efficient participation of the citizens, Dr. William Soto Santiago started this Integral Program, which is being developed by the GEAP.
On this occasion, a blood drive was carried out at the Mechanic and Electric Engineering Faculties, where more than a hundred university students, teachers and academics attended with enthusiasm to the calling of the activists, who showed them the importance of voluntary and regular blood donation, to guarantee the provision of blood and blood supplies to people in need.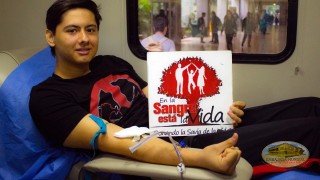 Details
Date:
access_time Wednesday, May 4, 2016