Activists for Peace in Mexico celebrate World Blood Donor Day
Global Embassy of Activists for Peace
Activists for Peace in Mexico celebrate World Blood Donor Day
The Global Embassy of Activists for Peace (GEAP) in Mexico, joined to the celebration of the World Blood Donor Day under the slogan "Blood connects us all", established by the World Health Organization (WHO) for this year 2016.
The GEAP carried out in various federative entities of the Republic, workshops and awareness talks about the importance of donating blood voluntarily. Marathons, parades, formal events and pre-celebrations were carried out during the celebration to thank the donors for their voluntary blood contribution.
During the events, companies and governmental and non-governmental institutions, and the community in general, were recognized for the work performed in the blood donation marathons.
Activists stand out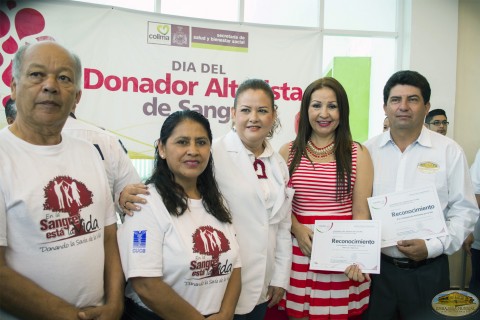 It is worth mentioning that the State that occupies the first place in a matter of effective blood units is Chihuahua. Each marathon has the support of the Regional Blood Bank of Ciudad Juarez and business groups. 
The States of Guerrero, Quintana Roo and Durango stood out for the development of awareness talks about the necessity of donating blood regularly, they also carried out parades with the purpose of making the community aware.
In San Luis Potosi, the volunteers of the GEAP carried out work in municipalities with difficult access and in rural zones, reaching more than 2,000 people through awareness talks. 
Blood donation marathons were carried out in the State of Mexico, Nuevo Leon, Puebla, Quintana Roo, San Luis Potosi, Tabasco, Veracruz and Zacatecas, where a total of 278 effective units were obtained.  
For a culture of voluntary donation
On the other hand, health institutions recognized the work GEAP carries out through the Integral Program: Life is in the Blood during this last few years in Colima, Chihuahua, Quintana Roo, the State of Mexico, Oaxaca and Coahuila.
In this way, the GEAP in Mexico joined to the global celebration, to contribute to the formation of a voluntary, altruist and regular safe blood donation culture, to increase the active and effective participation of the citizens, with the purpose of guarantying blood supply and its components to all those who need it.  
Details
Date:
access_time Wednesday, June 15, 2016