Activists for Peace in Costa Rica planted 50 native trees
Global Embassy of Activists for Peace
Activists for Peace in Costa Rica planted 50 native trees
Actions towards the protection, care and restoration of Mother Earth
As part of the International Program "Children of Mother Earth", the Global Embassy of Activists for Peace (GEAP) in Costa Rica, on April 22, 2016, celebrated the International Day of Mother Earth by planting 50 native trees donated by the Alajuelita municipality. 
Mrs. Ileana Alfaro, representing the Association of Monte Alto Development, Johana Avila, environmental manager of the city and 22 Activists for Peace attended the event. 
The Monte Alto community in Concepcion was where they planted the Lorito and Gavilan trees. This area has two water springs that are in danger of disappearing because of droughts, fires and tree felling. 
Resolution 63/278, approved by the General Assembly of the United Nations on April 22, 2009, recognizes Earth and her ecosystems as the home of the human beings. This year, 2016, the theme is "Trees for the Earth", and as their goal, they want to plant 7.8 billion trees over the next five years.
The GEAP invites the public to exercise actions towards the protection, care and restoration of Mother Earth, the only home of the human beings and of other living beings. And they are also promoting the new proposal of the Universal Declaration of the Rights of Mother Earth.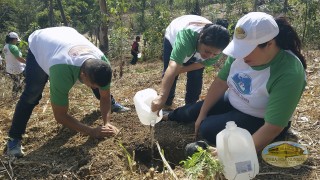 Details
Date:
access_time Thursday, April 21, 2016