"The welfare of human beings: an integrated approach to development, democracy and human rights" - Senator Homer Menacho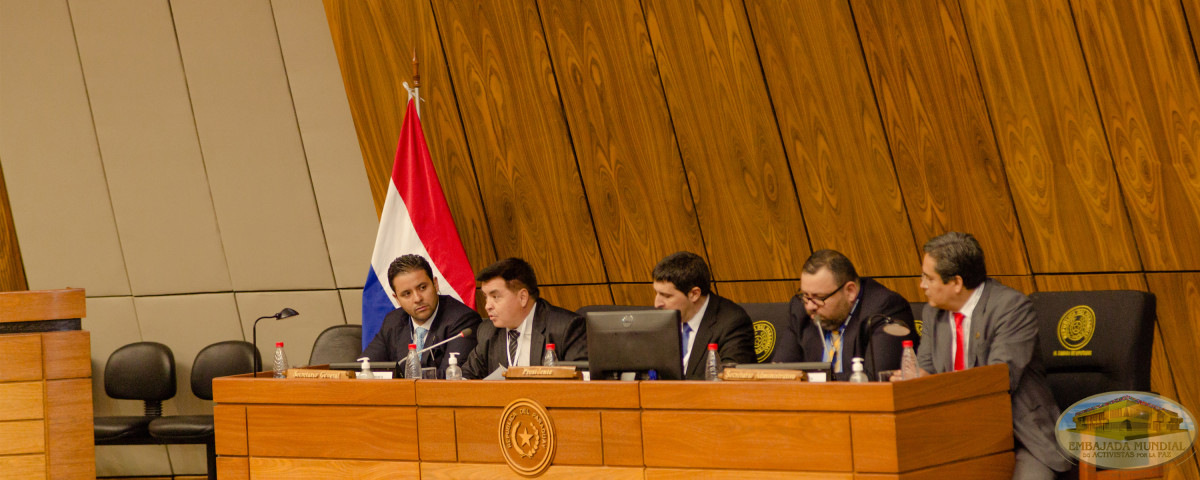 Dr. Carlos Iafigliola: …To our third distinguished presenter, Senator Homer Antonio Menacho Soria, President of the Commission of Territorial Organization and Autonomy of the State of Bolivia. The topic that will be addressed by the Senator is: "The Wellbeing of the Human Being and an Integral Concept of Development, Democracy, and Human Rights." Proceed Senator.
Well, thank you. Greetings to all parliamentarian panelists, and to all who join us today to talk about what I believe is very important, to seek  peace within the world; to speak of respect of human rights, to speak of  well-being, and to speak primarily about democracy.
For the last two days we have heard the different interventions and the truth is that they touch your heart a bit, when you listen to the interventions, and you arrive with an political mindset and then you have to think about the people; an idea of global well-being, not only of your own country. That is why it is also important to provide some of your experiences from your country and some of the risks faced in order to continue with peace in your country and in the world.
I think respect for human rights is important. For that reason, beginning from the concept over the development provided by Nobel Prize in Economics, Amartya Sen, in the 80s, which captures the importance of recognizing the fundamental individual human liberties based on the capacity to satisfy the basic needs, the integral development of the individual, and each person's right to live healthy in a society where they can express themselves openly, and that ensures an active participation in the decisions  that affect their development; and this developmental idea is practically tied to democracy, because this form of government will be the ideal terrain to put this developmental vision into practice.
We cannot speak of social well-being, nor of searching a better form of living for our habitants, our citizens, if we do not speak of a transversal development. It is not only speaking of economic growth, we must also think of development, health, education, basic sanitation; satisfying people's basic needs is very important to maintain peace also, because when these basic needs are not satisfied,  that is when safety issues arise; because they have to go search another way to fulfill their needs.   
When we speak of health… how can we speak of human development if we do not have health? We must work greatly on health, primarily the countries of this region; we must have universal health; search for a way to develop our productive part.
We have had, in these last 10 years, an economic boom in all the region, where many countries have removed a great percentage from extreme poverty, but if we have not established economic bases in these 10 years with the bonanza we have had, be cautioned of a regression with the reduction of hydrocarbon minerals and raw materials that we have had in these last ten years. That is why we must constantly be working on prevention; that we do not go back to the same thing. That is why it is necessary to identify the essential elements of democracy.
When we speak of democracy we must also see the way in which we live in our country. Among them we have the respect for human rights and the fundamental liberties, access to power and subjection to the state of law, the celebration of periodic elections that are free, just, and based on universal suffrage...and that are secret as an expression of the sovereignty of the peoples of plural regimen of parties and political organizations and the separation of dependency of powers.
Starting from this definition we cannot find a full democracy without fully guaranteeing the civil and political rights of all citizens. Within these rights, one of the principle ones is the liberty of expression. In this part I want to get directly into politics; so that peace is guaranteed, in our region and in the world, we must respect the human rights, the fundamental rights, and primarily, the right to information.
In many countries in this region we have problems; we hear of journalist process, because it feels like an atmosphere of self-censorship; principally in countries that have a great majority...that have been elected by a great majority and have more than two thirds within their congress...in our case it would be the assembly. There are very well known topics in our country of journalists that have been processed, of defense lawyers that have been processed; and what we ask in this occasion is to not judicialize politics, that will not lead us anywhere. In other words, the only thing that will happen is to perpetuate us in power; that is why we must ensure that our rulers understand that they must lend service to its people and that they do not eliminate democracy, either by persecuting or imprisoning the critics.
Information is important for democracy, and we must understand that. Information, be it good or bad, and we must accept the critics, mainly because one is not the owner of power; power is given by the people. It is not a personal good to say when I go in or out. We must respect the will of the people which is why within the fundamental rights that are weakened, we find sovereign will. That is to say, the decisions that citizens take through the democratic participation mechanisms are not being respected. In my country we have a clear example regarding this topic. We have gone, on February 21st, to a referendum to see if we could change the article of our constitution to be able to reelect again, or to allow the president to be elected again; that, in order to modify the constitution. We had this referendum, the "no" won, and now it is not being respected; the people's decision is not being respected. Other mechanisms are being searched for to seek reelection again. But I am not sharing this in a tone of complaint, but as a self-evaluation issue, and to search for a way that we do not reach great conflicts for this situation only.
There is talk of a hot issue within the national press network, precisely, if the president will be re-elected or not, when we have many things for which to work for within this issue that a crisis is hitting our country. I believe that in this issue we must say that we cannot be changing constitutions, nor manipulating elections, or taking a desperate measure to remain in power. This is why I say that the leaders must understand that their position is a trust given by the people, and not a personal good so that they can say until when they will govern and if they want to continue. You really must govern while listening to the people. That is why the active participation of the international community in the next few years is important, where the popular will is again threatened. This is not only in my country, but in several countries of this region, and I think it is important international organizations that are present in this CUMIPAZ can bring more attention to these points because they are precisely the points where conflicts arise.
We, in Bolivia, just had a strong conflict that nobody would like, not even opposers, nor government officials in my country, with a conflict where there was collation  with cooperatives where a vice minister was killed. So, what we must search for is to pacify our country, but for that we must speak, we must have lots of information, and also, we must fight so that justice is equal for everyone; and against intolerance, because these things are things that happen precisely because of these types of issues. We must fight, we must be more tolerant, primarily us, the governing bodies, we must be able to listen to our sectors, and sit down and exhaust each other, in reference to communication instruments. I say that because it is not only my country, this happens in practically all the region.
This is why I ask for active and, above all, impartial participation on behalf of the international community; limiting itself to seeing the Bolivian cause could be of great help to guarantee social peace in our territory, where our fellow citizens feel their fundamental rights are guaranteed; and it is important…
I was listening to… today, precisely, to the director of the assembly for peace, Dr. Soto; it is important that we fight for peace, all of us; without seeing political color, nor color, or race, or ideology. We must search for peace, but it is up to us, all of us who are here, representative legislators, to see that there is improvement in every one of these points that we have spoken of; in regards to health, in regards to education, respect for human rights, freedom of expression; that must be our commitment: fight for democracy, fight for the respect of human rights, and primarily, fight for peace worldwide, which is why I ask from my country, and from this space of dialogue, that we has been provided practically with CUMIPAZ, that the world must really wake up before the lie and the distortion of the truth, and reject all types of discrimination.
Thank you very much. 
Details
Date:
access_time Wed, 10/05/2016 - 10:10