Workshop I Form entrepreneurs with integral leadership
Global Embassy of Activists for Peace
See Gallery
The 3rd Corporate Social Responsibility Encounter was the stage where the Workshop "Integral Leadership in CSR" was held, dictated by economist Javier Fernández Aguado Ph.D in Economics, President of MindValue and coaching for Senior Management of Spain. 
This segment was carried out as part of the objectives of the Corporate Social Responsibility Program (CSR) for sustainable development, implemented by the Global Embassy of Activists for Peace (GEAP), which collaborates with the training of entrepreneurs with a positive transformational leadership, which can establish businesses with ethical and transparent principles.
For the GEAP, society needs leaders who are focused on finding peace and happiness for the human being, leaders willing to contribute to companies in changing the world.
In this learning space, Fernández Aguado explained that a leader is the person who generates commitment, who makes others want to do, what they have to do.
The language of leadership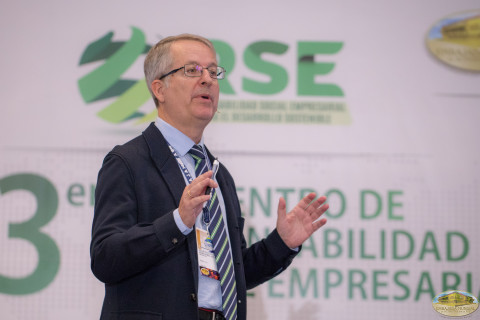 For Fernández Aguado, learning the language of leadership is not easy, because it requires overcoming obstacles, among them the tendency to routine and comfort. "The first chapter of leadership language is technical preparation: if we want to be leaders, we have to know what we are talking about," he said.


During his speech, the specialist explained that the second great chapter of leadership language are behavioral and directive skills. "It is not easy to negotiate, present, empathize, motivate, hope... you must learn how to do it".
The third part is what serves to differentiate the leader of the manipulator, said Fernández Aguado:
"The leader is a person who comes to a group of people, converts it into a team and moves it to a place better than the one it was when he arrived, that is a leader (...) What sets a leader apart from a manipulator is the third chapter of the book of leadership language, which is ethics, which are values".
Ethics and leadership
Javier Fernández Aguado developed his subject based on examples of daily life. In this way, he illustrated the characteristics of a leader: participatory, positive, accesible, hard-working, humble, ethical, motivating, among others. He also pointed out that ethical leadership is redundant, because the leader is ethical or they are not a leader.
We can learn leadership, we can make the effort to plant leadership acts, to collect leadership habits that give us the character of a leader, that will forge our destiny," he said.
Details
Proyecto:
CUMIPAZ Peace Integration Summit