Uruguayan students participate in community seminars
Global Embassy of Activists for Peace
Uruguayan students participate in community seminars
Volunteers of the Global Embassy of Activists for Peace (GEAP) from Artigas city and the city of Buenos Aires (Argentina), accompanied by the technician in Sanitary Vigilance, Rita Delgado, representative of the Environmental Management Authority of the Departmental Government of Artigas, participated in community seminars revolving around World Water Day.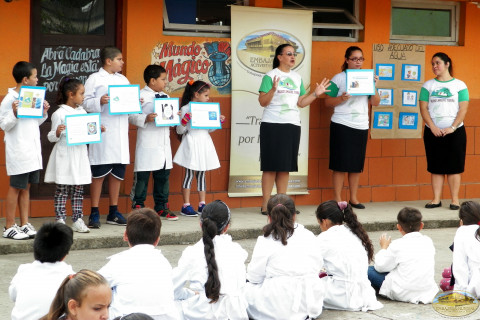 The activity was attended by the departmental inspectors of elementary schools, Irasely Bandera and María del Huerto Aguirregaray, and the departmental inspection of schools, two officials from the Community Police and Environmental Management officials.
The lecture was given to students from 4th, 5th, and 6th grade from School N° 79 of the Progreso neighborhood, along with the teachers, Mónica Vázquez, Claudia Digregori and the director of the institution, Rosario Soto. 
Authorities and organizations
The Municipal Auditorium received city authorities, among them, the director of Environmental Management from the Departmental Government of Artigas, Jorge Cristaldo; the national deputy, Silvio Ríos; representatives of the police headquarters; and the president of Rotary Club Artigas, Sembrador Miguel Vargas.
Also, the president of Rotatory, Gastón Fachin was present, and representatives of different environmental NGOs; and the national coordinator of GEAP in Uruguay, Viviana Saga, who was in charge of the welcoming remarks.
Educational Sessions
The professor of Geography, Laura Marcelino, explained in her dissertation the importance the Cuareim river basin has for everyone in the city.
On the other hand, the technicians Nicolás de Souza and María Eugenia Olivera, representatives of the National Water Directorate (DINAGUA, Spanish acronym) from Regional Salto, spoke on the Guaraní aquifer and the importance of underground water.
Community Seminars
Also, the agricultural engineers Gabriel Fagúndez, Sergio Viera, the technician in Sanitary Vigilance, Rita Delgado, and officials from the Environmental Management participated and shared actions to protect and conserve fresh water. 
Channel 3TV Artigas, Channel 4 Ideas del Norte, Channel 5 and Radio Cuareim CV 127 AM, were the social media coverage for the event in the Municipal Auditorium.
Details
Date:
access_time Wednesday, March 22, 2017