In Uruguay, volunteers hold sessions for a healthy environment
Global Embassy of Activists for Peace
In Uruguay, volunteers hold sessions for a healthy environment
World Environment Day
The Global Embassy of Activists for Peace (GEAP) in Uruguay began the celebration of World Environment Day with a workshop organized by the Agrarian School of Artigas, followed by different activities in favor of Mother Earth for its care and preservation.
The day, which took place from June 3 to 6, made an urgent call to the community to take action for a healthy environment.
The banks of the Urumbeba stream was the stage where teachers Natalia Zaldúa, Marcelo Loureiro, Verónica Etchebarnde and the NGO Vida Silvestre of the city of Montevideo dictated the theoretical part of the training, where fish, flora and fauna were part of the festivity.
Conciencia ambiental
To create an environmental awareness, volunteers from the GEAP in Artigas organized, together with volunteers from Chaco and Buenos Aires, the restoration and cleaning of the plaza and the Pintadito Town Center Sports Center.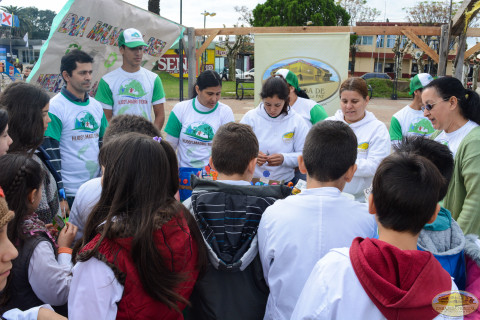 GEAP Volunteers raising awareness among local children about how to be environmental stewards.
Simultaneously, the Guardians for Peace of Mother Earth installed the Fair for Peace of Mother Earth in Artigas Square, which was composed of modules that made known the theme "The 5Rs of Environmental Values: Reuse, Recycle, Reduce, Reject and Reeducate."
More than 500 people toured the stands where they learned that with small actions you can improve the life of the environment.
The act was attended by the municipal mayor, Pablo Caram; the departmental inspector of Schools, Ismael da Costa; the director of Environmental Management, Jorge Cristaldo; and the Health Surveillance technique, Rita Delgado.
Educational talk
To finish, the Direction of Environmental Management of the Departmental Administration of Artigas made an invitation to the GEAP volunteers to give educational talks to the students of the School Educational Establishment N ° 73.
The exhibitions, which were attended by 96 students and 5 teachers, dealt with the following topics:
Environmental education
The 5Rs and 
The importance of recognizing Mother Earth as a living being
Through the Children of Mother Earth Program, the GEAP in Uruguay develops activities that promote citizen participation and teach human beings that the planet Earth needs everyone's protection, just as every living being needs it.
Details
Date:
access_time Tuesday, June 6, 2017