Peru: the GEAP promotes an environmental culture
Global Embassy of Activists for Peace
Peru: the GEAP promotes an environmental culture
The Global Embassy of Activists for Peace (GEAP) in Peru carried out the Fair for the Peace of Mother Earth at the El Recreo Plaza in the city of Trujillo, in coordination with the Trujillo Management Service (SEGAT) and the volunteers of the Nueva Acropolis institution. See: Citizens of Peru pledge to protect Mother Earth.
The fair was made up of five informative modules made with recyclable material. The Guardians for the Peace of Mother Earth, with the aim of promoting an environmental culture, based the talks on the Universal Declaration of the Rights of Mother Earth, the digital signature that supports this proposal and the environmental values.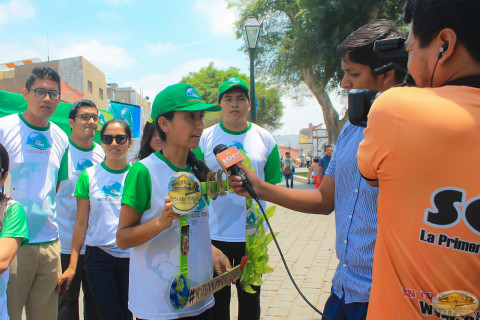 They also presented the Children of Mother Earth Social Program and its areas of action. The meeting was attended by locals, who attended the call to care for Mother Earth.
In addition, the mayor of the province of Trujillo, Elidio Espinoza, made an appearance, who reaffirmed his commitment and support to this type of events that are of vital importance for the city.
Environmental Education
According to environmental figures from the Ministry of the Environment of Peru (2013), the city of Trujillo, Lima and Piura generate more solid waste per person in a day; this is also supported by the report of the National Environmental Information System (SINIA).
The Fairs are intended to promote environmental education among citizens, based on the recognition of Mother Earth as a living being and actions aimed at protecting, restoring and establishing harmonious and peaceful coexistence between humans and nature.
Details
Date:
access_time Saturday, February 18, 2017