Panama: Fair for the Peace of Mother Earth highlights indigenous culture
Global Embassy of Activists for Peace
Panama: Fair for the Peace of Mother Earth highlights indigenous culture
International Day of the World's Indigenous Peoples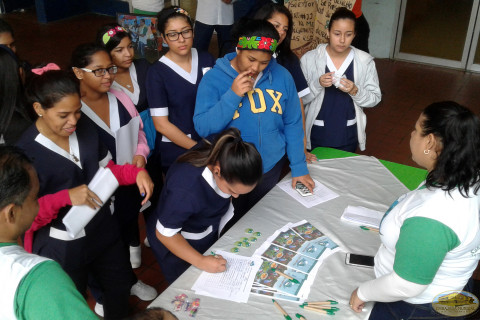 UDELAS Bioscience and Public Health students

In coordination with the Association of Indigenous Students from the Specialized University of the Americas (UDELAS), the Global Embassy of Activists for Peace (GEAP) in Panama held the Fair for the Peace of Mother Earth "Celebration of the Tenth Anniversary of the UN Declaration of the Indigenous Peoples".
The activity, carried out as part of the International Day of the World's Indigenous Peoples, was held at the Bioscience and Public Health Department of this university, where the students passed through the informative modules on indigenous culture.
Panama has 7 seven indigenous peoples:
Bri bri
Buglé
Emberá
Kuna
Naso Teribe
Ngöbe y
Wounaan
Crafts and dances
These people are distributed in 5 county territories: Kuna Madugandí, Ngobe Bugle, Kuna Wargandí, Kuna Yala and Emberá Wounaan. At the same time, the Activists for Peace presented the International Program Children of Mother Earth.
The fair couted with the participation of representative dances, and to highlight indigenous crafts, some of the participants had their faces painted with distinctive geometrical shapes of the Embera and the Wounaan.
Encounter of the Children of Mother Earth
As part of the development program during the fair, they socialized the conclusions of the 64 encounters of the Children of Mother Earth that were held in more than 9 Latin American countries and the United States, including Panama. These spaces allowed different indigenous leaders to express their cosmogenic vision.
Details
Date:
access_time Wednesday, August 9, 2017