With the objective of creating a culture of peace, the Global Embassy of Activists for Peace (GEAP) in coordination with the Municipal Council of Matías Romero, Oaxaca, Mexico held the Meeting of Youth Leaders for Peace.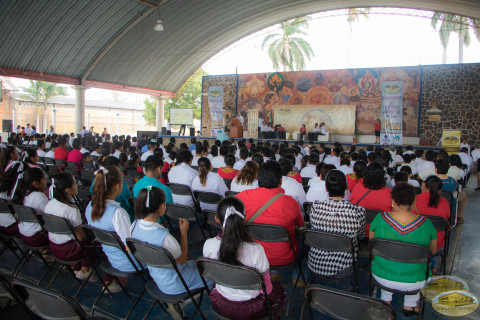 Around 300 people gathered to participate in the event
Daniel González Martínez Park was the place where around 300 people gathered to participate in the event where different topics were discussed that strengthen the integral education of youth.
Attending the meeting Ciria Selene Mateo delegate of the Constitutional City Council; Vicente López, deputy director of the Municipal Youth Institute of Unión Hidalgo; José Alvarado student of the 4th semester of Industrial Engineering of the University of the Gulf of Mexico; and Griselda Velásquez, president of the Youth Institute of Mexico in Revolution.
Presentation of papers
The inauguration words were given by Ciria Mateo. Then, Francisco Guerra, national coordinator of the GEAP in his speech said:
"Young people must be educated in the spirit of the dignity and equality of all men without any distinction."
Youth leaders from different institutions made an appearance. For their part, representatives of the Isthmus of Oaxaca participated as speakers. Activists for peace also came.
The meeting concluded with the signing of collaboration agreements between GEAP and 10 institutions in Oaxaca. (See list of institutions that signed the collaboration agreement with GEAP)