The OAS receives the official proposal for the creation of the Inter American Environmental Charter
Global Embassy of Activists for Peace
Within the framework of the Diplomatic, Political and Parliamentary Session of CUMIPAZ – 2016, the executive president of the Global Embassy of Activists for Peace (GEAP), William Soto, presented the official proposal for the creation of the Inter American Environmental Charter.
The document was delivered to the general secretary of the Organization of American States (OAS), Luis Almargo, before parliamentary, political, diplomatic, and academic authorities from different countries in America and Europe.
Soto made a special call to the: "urgent necessity of working towards the recognition of the dignity, protection and restoration of the most important LIVING BEING: our Mother Earth".
At the same time, he emphasized that "all the States of the World, especially those in the Americas, must recognize that Mother Earth is a living being; and as a living being, she is subject to rights".
During the conference "The challenge of democratic leaders of the XXI century: achieving the peace and happiness of the integral human being and of Mother Earth", William Soto revealed the content of the environmental proposal:
First: Proclamation of Constitution of the Rights of Mother Earth.
Second: Framework Law for the Prevention and Punishment of the Crime of Ecocide.
Third: Charter for the Protection of Mother Earth and the creation of the Inter American Court for the Defense of the Rights of Mother Earth.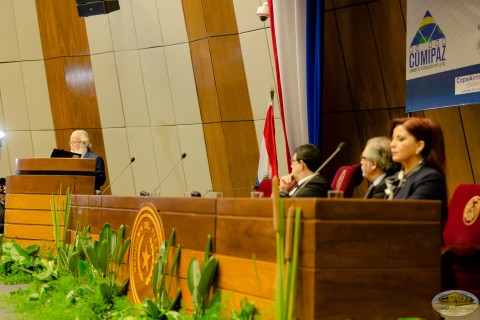 The proposal was developed by the GEAP along with experts and the participation of the civil society, supported in various international documents and studies, specifically in three of the most important documents promulgated by the United Nations Organization:
The general secretary of the OAS, while speaking to the media, said that he will present the proposal before the Judicial Committee of the Organization. (Listen to audio here)
Details
Proyecto:
CUMIPAZ Peace Integration Summit