National Judicial Forum Strengthens Universal Justice
Global Embassy of Activists for Peace
National Judicial Forum Strengthens Universal Justice
In the Hall of Honor of the Municipality of Quetzaltenango, Guatemala, the IV National Judicial Forum "Human Dignity, Presumption of Innocence and Human Rights" was organized by the World Embassy of Activists for Peace (GEAP) was carried out.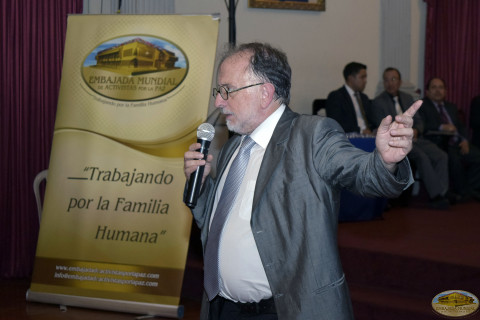 Speaks of "The Challenges of International Criminal Justice Today"
The Forum, carried out under the
Justice for Peace Program
, aims to strengthen and improve
universal justice, democracy and respect for human rights
by raising awareness and promoting action in the political, judicial and academic fields.
The activity was attended by 230 judicial experts, as well as representatives of the Association of Professional Schools in Guatemala; delegates from the Ministry of Education, the National Civil Police, university professors and university students.
The Forum was organized in coordination with the Academy of Criminal Sciences and Human Rights of Guatemala.
Human Dignity
Sergio Madrazo, university professor of the University of San Carlos of Guatemala, spoke on the subject "Justice as Human Right."
«Justice' is an absolute value and it is not relative; naturalism affirms that the validity of the norm must yield to justice; and positivism affirms that justice must yield to the validity of the norm,»  Madrazo expressed.
The forum was attended by Carles McCragh, Vice-President of the Foundation of the Council of Spanish Lawyers and President of the Council of Lawyers of Catalonia, Spain, who spoke on the topic "The Challenges of International Criminal Justice."
«The base of human rights is dignity, and we must respect that dignity,» said McCragh.
Like McCragh, Erika Torregrossa, General Secretary of the International Criminal Bar Association and Vice-President of the International Criminal Justice Commission of the Barcelona, Spain School also spoke on the same subject and said:
«The international legal system has been endowed with rules that prohibit certain behaviors and orders punishment to the responsible individuals,» she concluded.
Human Rights
To conclude the presentations, Ludwin Villalta, President of the Academy of Criminal Sciences and Human Rights of Guatemala, gave the participants the theme "Reflections on Justice in Guatemala."
«The Constitutional Court does not have the last word in the State of Law, the Inter-American Court of Human Rights does,» said Villalta.
Finally, Villalta honored 30 legal professionals and the national coordinator of the GEAP, Miguel Gonzalez, with a medal awarded by the Academy of Criminal Sciences and Human Rights of Guatemala, entity that he represents.
Details
Date:
access_time Wednesday, June 7, 2017