More than 6,000 lives were saved thanks to blood donations collected during the 6th International Blood Drive
Global Embassy of Activists for Peace
More than 6,000 lives were saved thanks to blood donations collected during the 6th International Blood Drive
The 8 most important regions and more than 51 cities of our nation made a commitment of love towards others, and went to different blood drives organized by the GEAP along with Blood Centers, during the 6th International Blood Drive Marathon "LIFE IS IN THE BLOOD".
Universities, Blood Centers, bus stops, rural cities, colleges, among others, were some of the places where 2899 people became anonymous heroes by spending 20 minutes of their time donating blood that will be used to help more than 6000 Chileans that may need an organ transplant, or blood transfusion because of an accident or health issue, regardless of their age.
The objective of these campaigns is to continue creating awareness in people and that this action is converted into a healthy habit, where men go every three months and women every four months to blood centers to voluntarily and altruistically donate safe blood.
The blood centers of the country joined the commitment and goal established by the World Health Organization, so that Chile can become one of the nations that counts with 100% of voluntary blood donations. In this sense, the GEAP will continue supporting blood drives and be available to collaborate in the search of new blood donors.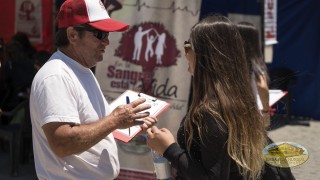 Details
Date:
access_time Thursday, December 10, 2015