Melodies of love and peace for children in Finca la Industria
Global Embassy of Activists for Peace
The GEAP Symphony Orchestra will hold a musical repertoire in solidarity with the refugees
Within the framework of the activities to be carried out in Guatemala during Peace Integration Summit (CUMIPAZ), the Global Embassy of Activists for Peace (GEAP) will take its project "Music for peace and happiness of the integral human being" to the refugee children at Finca la Industria, Escuintla, on September 27, 2018.
Due to the eruption of the Volcán de Fuego, located 60 km from the capital, Guatemala City, on June 3, 2018, 8 localities in the area were affected, mainly the village of San Miguel de los Lotes and the town of Finca la Candelaria.
Some of the victims of these locations, approximately 800 people, including 300 children, were relocated to the Finca la Industria hostel, where the Symphony Orchestra of the Global Embassy of Activists for Peace (OSEMAP), will hold a musical day.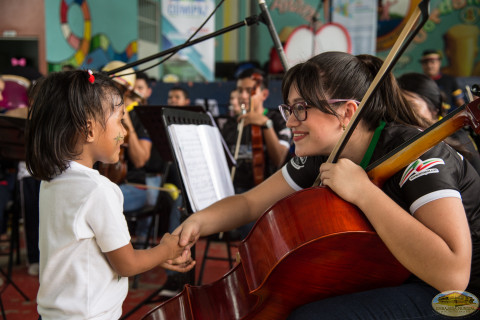 Joel Lara, head of the OSEMAP said: "It has been proven that music has a fundamental therapeutic value because it influences different human emotions and has the power to reach the heart directly, it has the ability to make people happy and it is an instrument of social cohesion, for that reason the musical concert was chosen as an activity to interact, specifically, with the minors who are in the shelters ".
For this event, volunteers from Guatemala and various countries of America prepare the recreational, motivational and educational dynamics that will accompany the musical presentation.
COUNTRY OF PEACE 2018
Guatemala is the host country of the 4th edition of the CUMIPAZ, which will take place from October 1 to 6, of this year, in which volunteers from various countries of America come together to organize and schedule the event and the activities prior to the summit.
CUMIPAZ is a high-level international meeting that will bring together world leaders, parliamentary, academic, judicial, political and civil society authorities, as well as peace activists, who voluntarily attend each year to participate in the development of the highest event of the institution.
HANDS THAT CONSTRUCT PEACE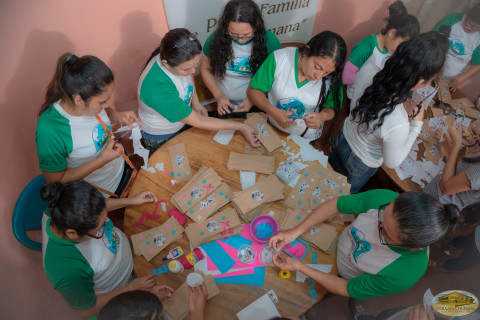 Among expressions of joy and fraternity, dozens of young volunteers from the GEAP, from San Juan Sanarate, created 300 hand-made surprises, which will be given to the children of the shelter with the purpose of bringing encouragement and comfort to those who suffered from the tragedy that the Guatemalan people lived through.
Likewise, OSEMAP musicians, composed of young people and adults from different countries of America, prepare musical pieces that will carry a message of peace and hope for those present at the event, which meets the institution's objectives when working in favor of the human family.
Details
Proyecto:
CUMIPAZ Peace Integration Summit