Judicial Forum Strengthens the Administration of a Justice for Peace
Global Embassy of Activists for Peace
Judicial Forum Strengthens the Administration of a Justice for Peace
In the state of Campeche, Global Embassy of Activists for Peace (GEAP) in Mexico, as part of the Program Justice for Peace, held the 1st National Judicial Forum "Human Dignity, Presumption of Innocence, and Human Rights", in the installations of the Victoriano Nieves Museum of Ciudad del Carmen.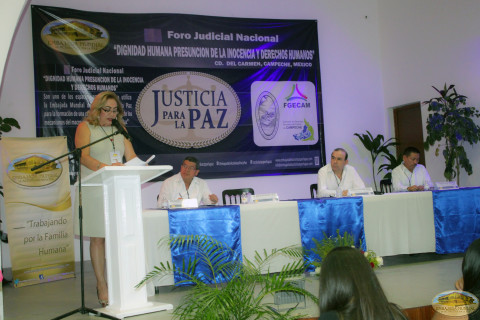 Francisco Tejero, professor of the Faculty of Law at the Autonomous University of Carmen (UNACAR); also, Marlem Bustamante, lawyer of Commission of Human Rights; and the coordinators of the GEAP, Francisco Guerra, national coordinator of Mexico, and Margarito Hernández, vice coordinator, attended the event.
The welcome speech was given by Margarito Hernández, who thanked the different personalities, special guests, and the general public for their participation in this educational activity that was carried out with the purpose of strengthening the administration of justice for peace.
Protection of Human Rights
For his part, Francisco Guerra presented the Program Justice for Peace, which aims to propose a space of analysis and constructive critical discussion in order to verify the efficiency and efficacy of the substantive and procedural criminal regulations, in the face of international treaties of Human Rights.
Next, Francisco Trejo spoke about the theme "Human dignity", an inherent value of each human being; the professor said:
"All human beings possess dignity regardless of the condition in which it is (...) In the context of Human Rights and from a doctrinal perspective, the notion of dignity that constitutes the value of each person".
Under the theme "Victim and victimizer", Marlem Bustamante developed his paper. The lawyer manifested that it is necessary to work jointly and ensure that the functions in each judicial department are fulfilled, and contribute to the sphere that corresponds to each individual.
"Every human being has access for their benefit, to perform actions in their daily life, which each of the citizens can do", mentioned Bustamante.
Around 50 people were educated under these thematics. This national forum intends to design and implement mechanisms with concrete solutions that transcend to the national and international community, to consolidate a more human, quick and effective justice for the well-being and peace of the human being.
Details
Date:
access_time Friday, February 24, 2017