Judicial Forum in Xalapa, Mexico under the topic of human dignity, presumption of innocence and human rights
Global Embassy of Activists for Peace
Judicial Forum in Xalapa, Mexico under the topic of human dignity, presumption of innocence and human rights
On Thursday, April 14th, in the city of Xalapa-Veracruz, a Judicial Forum of the Program "Justice for Peace" was carried out, under the topic "Human Dignity, Presumption of Innocence and Human Rights", line of action developed by the Global Embassy of Activists for Peace (GEAP), along with educational institutions which identify with the international purpose of a more accessible and effective justice.
With the participation of personalities specialized in subjects regarding the Criminal and Procedural System of the country, the youths and attending public were educated.
In this event: Dr. Salvador Martinez, Dr. Namico Matzumoto, Dr. Rossanna Escobar and Dr. Francisco Guerra, national coordinator of the GEAP in Mexico, among others, were present.
In compliance with the stated objective, the GEAP promoted this academic space to guide an area of analysis and constructive critical discussion with the aim of achieving greater efficiency and effectiveness within criminal regulations.
This way, Mexico continues to develop activities in the educational area with the different programs and projects carried out by the Institution; and within the specific scope of the Judicial Forums, it continues to support actions that generate a culture of peace and the establishment of a fairer, more balanced and integral society.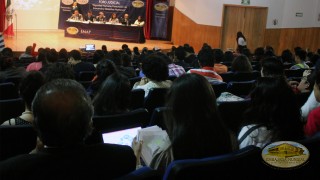 Details
Date:
access_time Thursday, April 14, 2016