Judge of the ICC in CUMIPAZ 2018 │The road to justice and peace
Global Embassy of Activists for Peace
See Gallery
In the Courtroom of the Palace of Justice in Guatemala City, the judge of the International Criminal Court of Congo, Antoine Kesia-Mbe Mindua, delivered a keynote address at the Justice and Democracy Session of the Peace Integration Summit, CUMIPAZ 2018.
The topic of his lecture was, "The International Criminal Court and the challenges of Global Justice as foundations to achieve peace", where he emphasized that the current situation of the court is a work with a very politicized environment.
"While the International Criminal Court is moving towards justice under the premise that justice is moving towards peace, it is operating in a highly politicized environment, in which considerations of peace can sometimes crash with aspirations towards justice", Said Mindua.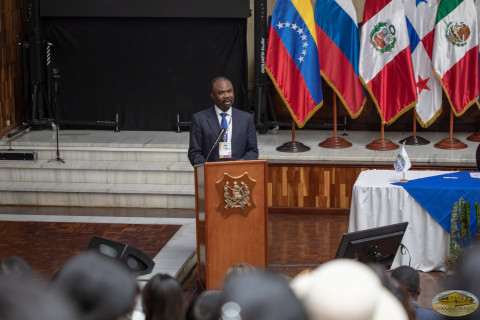 The judge from the International Criminal Court commented that China, Russia and the United States of America, since they are not Member States, have the power to decide which situations will be passed by the court or not, a circumstance that has brought annoyance to the general public and to the Member States themselves.
He assured that the International Criminal Court trusts the desire and cooperation of the States that are part and those that are not. He said that unlike the members that have the obligation to cooperate according to Article 9 of the Rome Statute, those that are not parties cooperate in their sole discretion. (See statute)
Rule of law for universal justice
Mindua explained that the rule of law is the principle to which all persons and institutions must be subject and be responsible for that form of law to enforce it.
"This issue is crucial, this must be addressed within the framework of universal justice and the requirements of global action, it is a punitive international law that is based on personal criminal responsibilities."
Also, he said:
"This is the main vehicle that allows us to enforce international law and the suppression of international crimes."
He indicated that the Court must try to develop harmonious and more efficient cooperation with the Member States, to allow the collection of evidence; or even more, the cooperation of the States is needed to investigate in the territories every conflictive situation.
"Developing this type of collaboration is one of the most crucial and difficult points for the Court in its search for justice and peace," he concluded.
Details
Proyecto:
CUMIPAZ Peace Integration Summit