Jewish community calls for justice for attack perpetrated in 1994
Global Embassy of Activists for Peace
Jewish community calls for justice for attack perpetrated in 1994
In the Deliberating Council of the city of Mar del Plata, the commemoration ceremony for the 22nd anniversary of the attack on the headquarters of the Argentine Israeli Mutual Association (AMIA) was held, where the Global Embassy of Activists for Peace (GEAP) attended as a special guest.
Guillermo Sáenz, head of the Deliberative Body, Marcelo Jovedjati, head of the Marplatense Israeli Society (SUIM); and Vilma Baragiola, Director of Social Development, representing the mayor Calos Arrollo; were present.
Also, councilors, representatives of the Jewish community, Catholic cults, civil organizations, academic authorities, armed forces, security and special guests.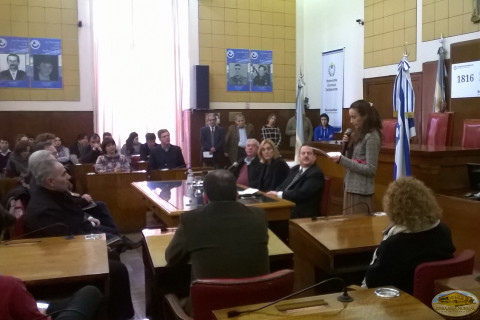 Conferences for peace
The regional coordinator of the GEAP, Gisela Sosa, addressed a few words to those present based on the theme "Peace as a right of every human being", which belongs to the Ambassador of Peace, William Soto Santiago.
The president of the Marplatense Israeli Society, Marcelo Jovedjati, referred to, in his address, to those killed in the attack, said that the victims do not rest in peace because justice is still lacking.
"It remains a State issue for us to fight against impunity. Hopefully we can build a decent future for our country, "Jovedjati said.
Attack on AMIA
On June 18, 1994, in Buenos Aires, AMIA suffered a terrorist attack with a car bomb, resulting in 85 people killed and 300 wounded. This fact is considered as the biggest attack on the Jews in this country.
22 years after the terrorist attack, there is still no conviction or imprisonment, a commemoration was celebrated one year after the death of prosecutor Alberto Nisman in which a crowd asked for justice for the AMIA bombing.
Details
Date:
access_time Monday, July 18, 2016