Habitants of Acapulco join to a blood donation campaign
Global Embassy of Activists for Peace
Habitants of Acapulco join to a blood donation campaign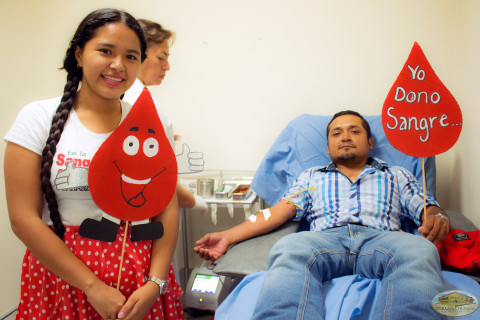 The State Center for Transfusion Medicine (CEMT) in the port of Acapulco, Guerrero, was the site where 80 volunteers from the Global Embassy of Activists for Peace (GEAP) in Mexico carried out a blood drive with the purpose of encouraging a culture of solidarity in society.
Through the Integral Program: Life is in the Blood, the GEAP develops blood drive campaigns in different parts of the nation to guarantee the blood supply to those who require it, and in this way to achieve happiness in the human family.
The event was attended by Atanasia Vazquez, director of the CEMT; Cecilia Gallardo, coordinator of the blood donation marathons in the CEMT; Elías García, coordinator of the integral program in Acapulco; Activists for Peace and the general public.
Active participation
Atanasia Vazquez, during the opening of the social activity said:
"I am grateful to the Global Embassy of Activists for Peace for their great contribution to society and for the great work they always do with universities, companies and society in general; and I hope that we will continue working in union and team so that in Acapulco the voluntary donations increase".
In addition, the social worker Cecilia Gallardo, in her address said: "This is increasing more and more. My friends, I know this will increase, and thanks to the GEAP".
The coordinator of the GEAP in Acapulco, Elias Garcia, thanked all those present for their participation, he also cordially invited all those present to the next blood drives to be held in different universities in the country.
The opening act ended with the performance of the musical piece "In the Life", interpreted by children and young people of the GEAP.  Then, the Activists received 43 volunteer donors, reaching a total of 32 effective safe blood units.
Details
Date:
access_time Tuesday, March 21, 2017