Guatemala | Ministry of Education receives CUMIPAZ 2018
Global Embassy of Activists for Peace
See Gallery
The Ministry of Education of the Republic of Guatemala held a cultural event at the headquarters of this organization, to welcome the 4th Edition of the Peace Integration Summit, CUMIPAZ 2018.
The event was attended by the deputy ministers of education of Guatemala, national and international academic authorities, the general director of the Global Embassy of Activists for Peace (GEAP), Gabriela Lara, and speakers of the Education Session of the summit.
The opening words were given by the administrative deputy minister of Education, María Eugenia Barrios Mejías, who thanked the attendance to all those present in the land of eternal spring.
"I am honored to welcome you to the country, which like all the countries of the world, has the primordial desire to live in peace," he said.
Declared an educational interest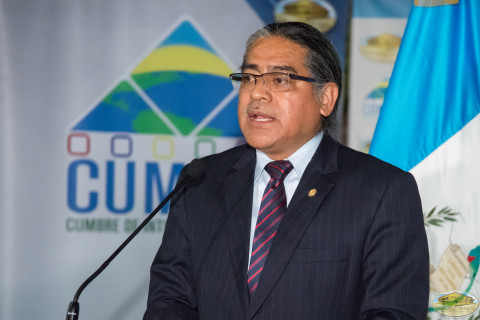 For his part, the Deputy Minister of Bilingual and Intercultural Education, Daniel Domingo Lopez, said that the Ministry of Education declared CUMIPAZ an educational interest through the ministerial agreement 2009 - 2018, which was disclosed in all schools in the country.
"In Guatemala we are convinced that peace is more than the absence of war, it is the realization of the construction of human dignity in its holistic conception," said Domingo López.
The technical deputy minister of Education, Héctor Alejandro Ocanto, in his speech, said: "CUMIPAZ serves to lay the foundatns for peaceful coexistence in the world."
Latin American Folk
The musical performances began with the group Marimba, of the Guatemalan Institute of Tourism INGUAT, who interpreted: Mi Bella Guatemala, El Ferrocarril de los Altos y Chuchitos calientes.
For their part, the children's choir of the Municipal Academy of Art of San Lucas Sacatepéquez, presented the songs: Sanctus Libera, Kikotem, Emulo Lipolidon, among others.
Members of the Symphony Orchestra of the Global Embassy of Activists for Peace (Osemap), highlighted the Guatemalan culture by interpreting Luna se Xelajú composed Paco Pérez.
To end the musical presentations, César Villalobos, cultural ambassador of the Andean music of Peru, using sikus rhythm, delighted the audience with the themes: El Condor Pasa and Pueblo Andino.
The event concluded with the bequeathing of gifts to the speakers of the Educational Session of the CUMIPAZ and the representatives of the GEAP.
Details
Proyecto:
CUMIPAZ Peace Integration Summit