Forum in Mexico: Space for analysis on Human Rights
Global Embassy of Activists for Peace
Forum in Mexico: Space for analysis on Human Rights
The Global Embassy of Activists for Peace (GEAP) in Mexico carried out the Judicial Forum "Human Dignity, Presumption of Innocence and Human Rights" at the Rafael Nieto Auditorium of the Autonomous University of San Luis Potosi (UASLP).
The activity carried out under the Justice for Peace Program provided a space for analysis that counted on the presence of specialists in issues of public security, advocacy and the delivery of justice in the state of San Luis Potosi. (See: Institutions that attended the Judicial Forum "Human Dignity, Presumption of Innocence and Human Rights")
Jose Quistian, Magistrate of the Collegiate Court in Criminal Matters of the 9th Circuit of the Federal Judicial Power, as well as Marco Mendez, master in Criminal Policy; and representatives of the GEAP attended the event.
Provide justice
The opening remarks were given by Hugo Valencia, undersecretary for Human Rights and Legal Affairs of the General Secretariat of State Government, who in his speech emphasized the importance of fighting for the inherent rights and basic freedoms of men.
On the other hand, Jose Quistian, under the theme "Concept of the Principle of Presumption of Innocence and its Practical Application in the Criminal Process," expressed that there are elements in paper for a democratic State of law, but it is not in fact materialized, implying a challenge for the delivery of justice.
"We have not had the capacity to generate confidence to the citizens and I think that is a great challenge that we all have. In my case we impart justice, but also those people who embody the authority of the prosecution of crimes and, of course, to impart justice to disputes that arise in that interaction with citizens," explained Quistian.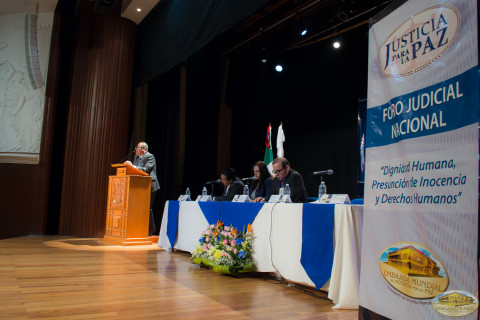 Marco Mendez then presented the theme "The importance of humanizing, of adhering to justice and the action of all official officials." During his participation, he mentioned that the penalties that dehumanize the prisoners should be considered and that they do not offer them options for a true social reintegration.
He also emphasized that the purpose of reinserting the sentence is limited because the Legislative Branch has a different idea of the function of the sentence, then there are crimes that have excessive penalties.
"There are people who get a 30, 40 and 50-year sentence. Do you think they are going to intend to re-enter society? That person knows that they will never leave prison, that person will not be interested in working, he will not be interested in doing anything at all within the prison system," Mendez concluded.
The event, which welcomed more than 70 people, concluded that proposals should be formulated to overcome the issues discussed, with the purpose of designing and implementing mechanisms with tangible solutions that transcend the national and international community.
Details
Date:
access_time Thursday, May 4, 2017