Tamaulipas Security Forces Participate in Judicial Forum
Global Embassy of Activists for Peace
Tamaulipas Security Forces Participate in Judicial Forum
The Global Embassy of Activists for Peace (GEAP), called upon the main security forces of the state of Tamaulipas through the Justice for Peace Program, to participate in the National Judicial Forum "Human Dignity, Presumption of Innocence and Human Rights," celebrated in the city of Victoria, Tamaulipas, Mexico.
Gloria Garza, Under Secretary of Law and Governmental Services of the General Secretariat of the Government; Brenda Luna, Under Director of Public Politics of the National System of Integral Protection of Girls, Boys and Youth, (SIPINNA); and Francisco Lopez, Director of Municipal Transit; assisted the event.
Also, Antonio Fernandez, Agent of the Public Ministry of Legal Accusatory and Oral Procedures, and the investigative police of the Tamaulipas State Attorney General's Office, Atyri Balderrama, Jose Martinez and Jorge Rodriguez, among other representatives of the state justice delegation.
Justice and Liberty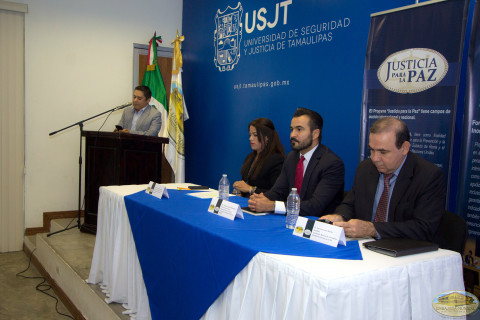 The opening ceremony and words of welcome were in charge of Rodolfo Reyes, Under Secretary of Public Security of the state.
The main presentations were given by the public defender, Yadira Zuñiga, who spoke on the topic: "Proposals to effectuate the human dignity of persons deprived of their liberty and to address prison overcrowding."
On the other hand, teacher Enrique Irazoque, delegated by the Secretariat of the Interior, treated the subject: "The importance of humanizing the administration of justice and the actions of all official officials, whether judges, prosecutors, agents of the Public Prosecutor's Office, judicial police officers, members of the National Army or guardians of the prison elements in Mexico."
In his presentation, Irazoque spoke about criminality in Mexico, he emphasized that at present time the number of complaints by the violation of human rights that appears in the nation is the highest of Latin America.
Live Signal
For his part, Francisco Guerra, national coordinator of GEAP, emphasized the importance of professionalizing the work of public workers involved in the chain of procurement and administration of justice.
With the support of the State Secretariat of Public Security, the educational activity was transferred in a live signal to the student community through an internal network, and transmitted to four rooms of the University of Security and Justice of Tamaulipas.
Details
Date:
access_time Wednesday, April 26, 2017