Elementary school children received training on the ecological rules of the 5R's
Global Embassy of Activists for Peace
Elementary school children received training on the ecological rules of the 5R's
The Global Embassy of Activists for Peace (GEAP) in Argentina received a request from the Andino School Nº 145-P of Mendoza, to give speeches to elementary school students.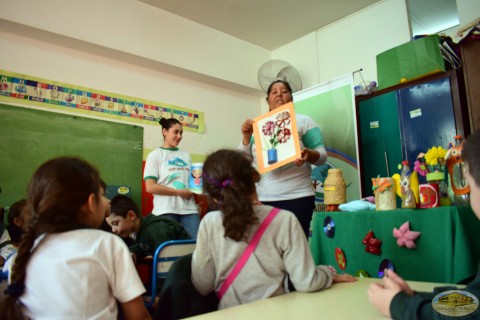 The activity was held during the morning and afternoon in the classrooms with 5-year-old children who learned about the ecological rules of the 5R's (Recycle, Reduce, Reuse, Reject and Re-educate).
Teacher Claudia and her assistant gave way to the exhibition that counted with the attendance of 35 students. Then, after the speech, the students filled a letter R with recycled materials.
The main objective of these activities is to educate in environmental values, to form Guardians for the Peace of Mother Earth, a movement that the GEAP promotes the protection, restoration, and defense of the inalienable right of Mother Earth.
An observations book was also part of the activity, where some participants wrote:
"Excellent proposals were presented today, creating awareness on how to care for the environment and give "VALUE TO THE EARTH", impressing upon the students the importance and care for Mother Earth. The people who came today were very predisposed and dynamic, adapting to both groups and demonstrating love towards the valuable work they do."
"Thank you for the work you do, we hope that you come back soon and we are committed to RE-EDUCATE and pass on what we learned today".
Details
Date:
access_time Friday, September 9, 2016