In El Salvador the GEAP, along with the Ministry of Health and the PANHO celebrated the World Blood Donor Day
Global Embassy of Activists for Peace
In El Salvador the GEAP, along with the Ministry of Health and the PANHO celebrated the World Blood Donor Day
The GEAP continues to develop the program "Life is in the Blood" in the country, to attract new donors
In order to motivate habitual blood donors to continue donating blood, and encourage people who are already healthy to start donating, the Global Embassy of Activists for Peace (GEAP) in El Salvador, attended the celebration of World Blood Donor Day on June 14, an event organized by the Ministry of Health (MINSAL).
The event was attended by the national coordinator of blood banks, Dra. Maryori Villatoro, representing the Pan American Health Organization (PAHO), Deputy Minister of Health, Julio Ticas, directors of national hospitals and volunteer donors.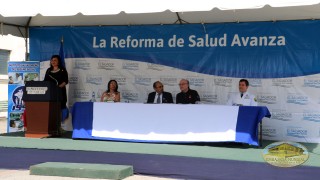 During the tribute, the importance of cooperation and responsibility of companies and organizations to create a culture of voluntary blood donation in the country was highlighted.
By 2015, in El Salvador, a total of 95.586 units of blood were collected, of which 16% came from altruistic voluntary donors, and there were approximately 245,607 transfusions to people with different diagnosis. The country currently has 20 nationwide blood banks. (Details MINSAL)
Around 1,500 voluntary safe blood donations were achieved in the country, between the 1st and 5th International Marathon "Life is in the Blood", organized by the GEAP along with blood banks and health institutions to contribute in the provision of necessary blood in hospitals; during the month of June this year, the 7th Marathon was held. (See: International Blood Marathons of the GEAP)
The GEAP continues to promote the Integral Program "Life is in the Blood" in order to encourage regular volunteers and attract new donors, sowing an altruistic culture that allows the establishment of links of life that contribute to the peace and welfare of the human family, therefore during the celebration, the WHO campaign this year was carried out with the slogan: Blood connects us all. (See: Integral Program The Blood is Life)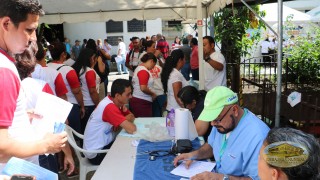 The activities organized by the GEAP to celebrate the annuity, and where they participated as an active organization in the promotion of voluntary and regular blood donation, 20 countries in Latin America, USA and Spain were registered; in Venezuela the central event of the institution was carried out with the delivery of the first edition of recognition to blood donors.
See International Summary: Heroes for life receive tribute on World Blood Donor Day
Details
Date:
access_time Tuesday, June 14, 2016