Communities of Peru participate in Environmental Marathons
Global Embassy of Activists for Peace
Communities of Peru participate in Environmental Marathons
In Piura and Chiclayo, volunteers from the Global Embassy of Activists for Peace (GEAP) held community environmental conferences on the importance of caring for the fresh water of Mother Earth.
As part of the activities carried out by GEAP under the Social Program: Children of Mother Earth, the Activists for Peace celebrated the World Water Day. 150 families from the Talarita Human Settlement, in the District of Castilla (Piura) and 100 in the city of Eten (Chiclayo) received the 5 minute talks.
Due to the heavy rains and huaicos that have occurred in Peru as a result of the El Niño Coastal phenomenon, there has been scarce water in the affected areas. That is why it is important to give citizen awareness talks. This natural disaster has disrupted water systems.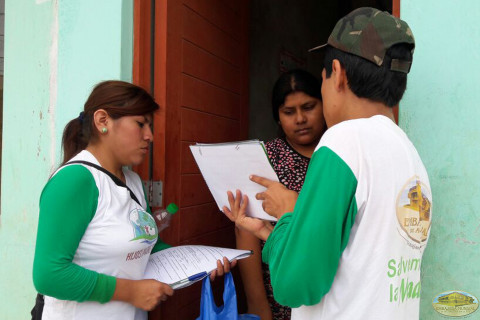 Brigades in action
The inhabitants of the country thanked the brigade of the hydrosphere of the Environmental Movement "Guardians for the Peace of Mother Earth" of the GEAP, for the work they do in favor of the population.
The conferences will continue to be held in the cities of Trujillo and Chimbote in order to raise awareness about the importance of caring for and conserving water, an essential element for living beings, of Mother Earth.
The warming of the waters of the Pacific Ocean, which evaporate and condense on mountain heights, cause the storms that cause the rivers to overflow. In Peru, a fact of this magnitude was not recorded since 1925 when the city of Trujillo was completely destroyed.
Details
Date:
access_time Tuesday, March 22, 2016