5th Consultation Meeting: Proposals in favor of indigenous people
Global Embassy of Activists for Peace
5th Consultation Meeting: Proposals in favor of indigenous people
In the city of Bahía Blanca, Argentina, the 5th Consultation Meeting was held, convened by the Global Embassy of Activists for Peace (GEAP), with the purpose of presenting the Inter-American Environmental Charter and the proposals that emerged at the Encounters of the Children of Mother Earth during 2016 - 2017.
The activity was attended by members of the Kumelen Newen Mapu organization, among them Mapuche leaders Carlos Galvarini, Zulema Lezcano, Nicole Galvarini, Fabiana Méndez, Doraliza Painefilu.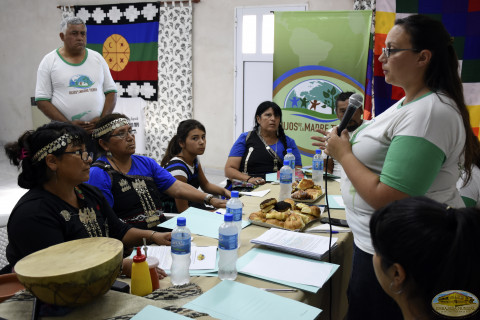 He gave the report and proposals of the Encounters of the Children of Mother Earth.
The meeting was in charge of the regional coordinator of the GEAP, Sara Barile, who presented a report on the activities that have been carried out through the International Program Children of Mother Earth with indigenous peoples of Latin America.
During the meeting the participants presented their proposals, which will be incorporated along with the approaches that emerged in the previous meetings.
In defense of their rights
Kumelen Newen Mapu is a non-profit organization that promotes its ancestral culture and defends the rights of indigenous peoples; they also offer loom, pottery and language workshops, as well as ceremonies where Mapuches and non-Mapuches participate.
The GEAP aims to organize activities and carry out joint actions with indigenous peoples to strengthen and defend their rights, and disseminate their understanding and ancestral knowledge through educational events and programs, to shelter and protect their cultural identity.
Details
Date:
access_time Saturday, January 20, 2018