For a voluntary blood donation culture
Global Embassy of Activists for Peace
For a voluntary blood donation culture
More than 96 people join the Project "Life is in the Blood"
The name of Teziutlán comes from the Nahua roots that translates as "hill full of hail". In this municipality belonging to the state of Puebla, Mexico, the Global Embassy of Activists for Peace (GEAP) held a series of activities on October 23, 2015, where 96 students from the Faculty of Nursing participated to learn about the project "Life is in the Blood".
Training of voluntary and regular donors
The presentation of the international project was in charge of the Activists for Peace in Mexico. They also offered awareness and sensitization talks to the students and the governing body of the educational institution, who showed great interest in the theme of sowing a culture of voluntary, altruistic and regular blood donation in society.
Heading to the 6th. International Blood Donation Marathon
Gabriel Reyes Cardoza, director of the Faculty of Nursing, attended this event; Dr. Oswaldo Ramos Ángel; also Gabriela Báez, head of the Promotion and Dissemination Area of the Institute; and the student leader Rodolfo Isaac Guerrero; who committed to participate in the 6th. International Marathon "Life is in the Blood" to be held in November 2015 throughout the national territory.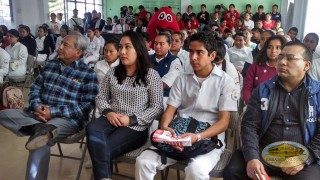 Details
Date:
access_time Thursday, October 22, 2015